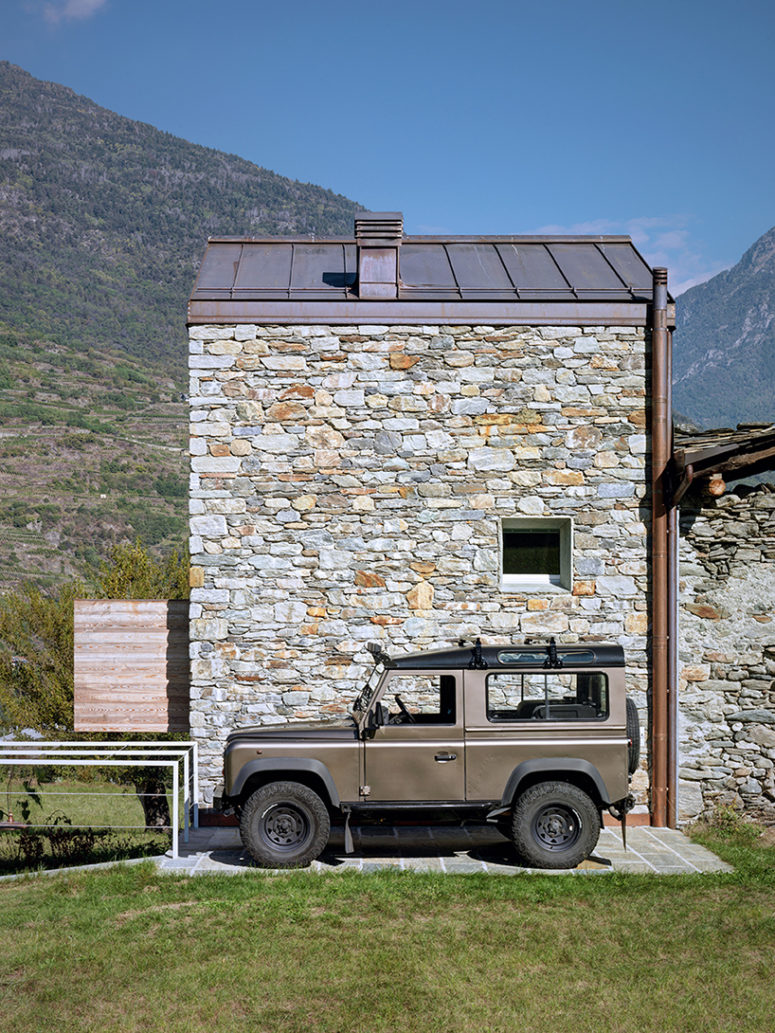 Architect Rocco Borromini has completed the design of 'SV house', a renovation project that involved the restoration of a set of stone ruins. Located in northern Italy, adjacent to the Alps, the dwelling offers sweeping views across the picturesque landscape. The simple structure comprises two existing stone walls connected by a reinforced concrete slab, while the upper storey, including its new façade and roof, is made of wood.
Rocco Borromini chose to use brushed larch wood for the new elevation, which includes timber slats — a nod to the region's alpine architecture. The ground floor contains a kitchen and living room, with a bedroom and bathroom found at the level above. The uppermost storey houses the master bedroom, a space which affords generous external views beneath the gable roofline. Each of the property's three storeys measure 22 square meters.
The decor is modern or minimalist, with lots of rustic features that make the interiors cozier. Such a style choice isn't accidental, the architect wanted to center every room around the beautiful views of outside, so nothing distracts from the landscape.
Within the home, a series of intimate and comfortable spaces ensure a warm and inviting atmosphere, while limited space has been maximized throughout the scheme. A lightweight steel staircase positioned against the rear wall features transparent landings that allow natural light to permeate each area of the plan. Although timber has been used for flooring on the upper storeys, the ground level features luserna stone, emphasizing a continuity between internal and external space.