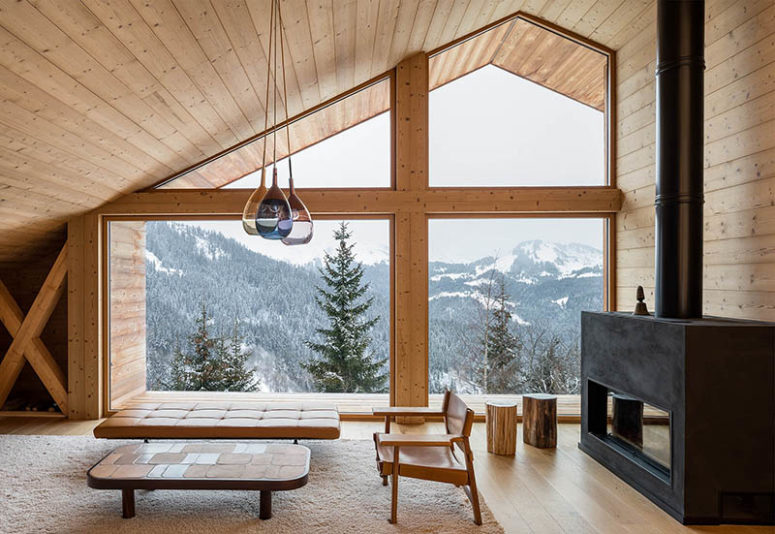 Chalets are created to spend amazing winters there, and the house we are featuring today is such a cozy and stylish space that even if you don't like winter, you'll love it there.
Mountain House in Manigod, France by Studio Razavi Architecture is located in an Alpine valley, which allows for very little freedom of architectural expression. Everything from building height/width ratio to roof slope, via building material and window sizes are strictly controlled to enforce endlessly mimicking traditional mountain homes. And they look really amazing!
The interior is a modern take on a traditional chalet, with a wide use of natural light-colored wood and laconic yet very cozy decor. The designers took the advantage of the views as much as possible, though the amount and size of the windows is restricted, the views are uncovered.
The living room is fully clad with light-colored wood, there's a large black hearth for warmth and a selection of comfy modern furniture: a daybed, a sofa, some chairs and tables. The kitchen is located in the darker part of the space, it's done with black cabinets and a wooden dining set.
The bedrooms feature wooden beams on the ceilings, there are only windows, some artworks and comfy beds – the views make the spaces dreamier and cozier. The master bathroom is done with grey tiles that remind of the stone and the same light-colored wood. There's also a balcony with some chairs that provides amazing views. Enjoy the pics of these and other spaces below!