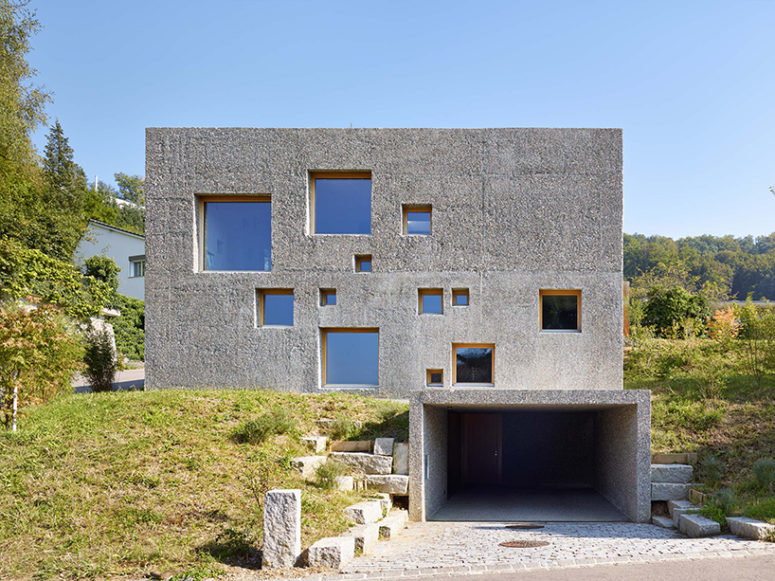 In northern Switzerland, Wespi de Meuron Romeo Architetti has designed a bold three-storey dwelling in a residential area of Füllinsdorf. The cuboid home, which replaces a previous property on the same plot, features an elegant washed concrete façade with an array of square openings in a variety of different sizes. The residence is positioned at the lower edge of the site in order to leave space for further construction.
Wespi de Meuron Romeo Architetti sought to carefully integrate the new building within the existing neighborhood. Located on a sloping site, the house is either accessed through the ground level carport, or via a second entrance at the rear of the property that leads through a small courtyard into the main living area. A staircase at the center of the house, illuminated with a skylight, connects each of the residence's three floors.
In addition to the covered carport and the main entrance, the ground floor contains a cellar as well as storage facilities. Above, the intermediate level houses the master bedroom, two further bedrooms, a guest room/study, and the bathrooms. Primary living accommodation is found on the uppermost storey, with a kitchen and dining area, a lounge, and a partially covered courtyard with access to the garden at the rear. A minimal material palette has been used throughout the scheme, with washed concrete used for the building's outer shell. Internally, cement plaster has been utilized for the walls and ceilings, with cuboid recesses for books and objects integrated into the roughcast surfaces. The property's floors are made from smooth polished cement, while natural oak has been employed for the windows and interior fittings.