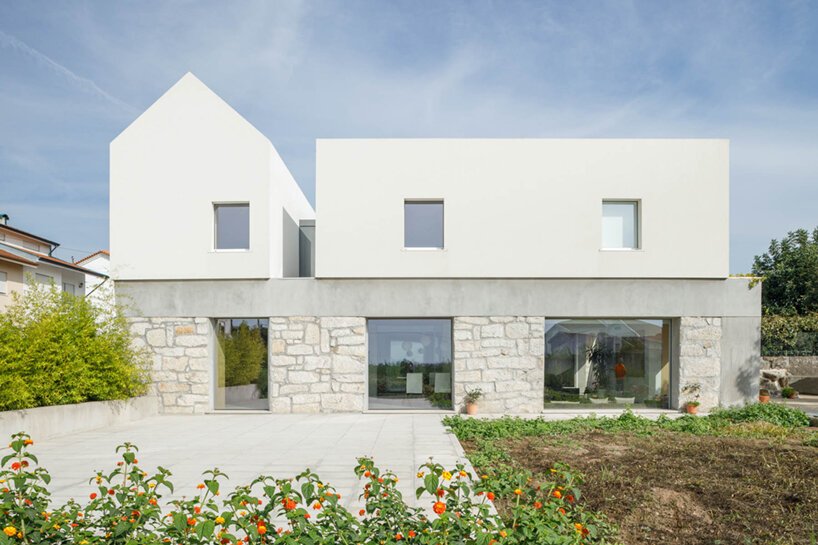 Studio Paulo Merlini architects introduces an architectural revitalization with its Casa Rio within the Portuguese town of Gondomar. The dwelling stands as a renovation and remodel of an derelict farmhouse which celebrates the rural language of the city. While deconstructed the preexisting condition, removing the damaged materials from the old facade, the design team discovered that the house was actually made up of three small volumes, built according to the needs of the former owner.
Upon stripping the former farmhouse into its three volumes, Paulo Merlini architects developed a premise for the design of its Casa Rio. The team seeks to maintain the structure of the original volumes and assume their original shape uncovered. These volumes are newly unified through a central patio, perforated so as to flood the social area below with natural light. Stepping stones are intermingled with skylights to produce a diverse, pixelated effect. The green roof finish which covers this central slab offers a new and intimate garden accessed by each room and private area of the house.
With the material palette, Paulo Merlini architects generates a strong contrast between the two floors of its Casa Rio. The ground floor is expressed with a rougher materiality to offer a cavernous atmosphere and the sensation of living inside an excavated granite mass. This ground floor maintains an immediate dialogue with the exterior space. along the upper floor, the geometries of the three original volumes are emphasized with their expression as pure white forms, filled with light. Here the wooden shutters and the wooden floors recall the feeling of a typical Portuguese country house.