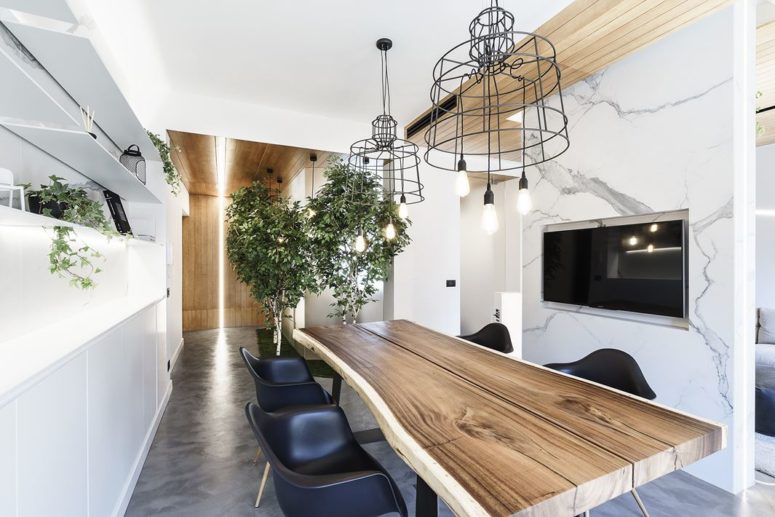 This unique hybrid space in the center of Rome serves a dual purpose: a co-working space and a 130-square meter apartment. The BrainFactory may have been conceived as a workshop of ideas and creativity, but the designers have made it so much more. High quality craftsmanship, impeccably designed furnishings from major brands, and an open, functional flow pattern make this the ultimate home and workspace rolled into one amazing light-filled space.
The entryway is lined with birch trees strung with lengths of mini-lights that float among the branches. The trees run along a wall of frosted glass, which is floor to ceiling, concealing the kitchen while allowing light to filter through in both directions. Just beyond the tree-lined entryway is the conference area that can also serve as a dining room. The space is versatile enough to serve both purposes, anchored by a spectacular live edge table.
The living area has a lot of great features including the small inset shelving on the side wall. The central divide features another television from this side, along with a built-in cabinets for hiding electronic components and other necessities.
The beautiful kitchen is a separate space, set off from the main area by the wall of cupboards as well as the frosted glass partition by the entryway. The look is modern and the feel very sleek thanks to the cabinetry, which is devoid of exterior hardware.
Unexpectedly, the bedroom features a bathtub at the window — and why not when the view looks out over Rome! Nestled in a window alcove that is flanked by two plant-covered walls, the tub's placement is a contemporary reinterpretation of an ancient concept of utilizing space.
The uncluttered working and living space still sports plenty of storage in an oversize walk-in closet that takes advantage of every inch, floor to ceiling. Central track lighting provides illumination and a well designed layout has room for clothing, accessories and much more. At one end, a solid door closes off the space, while at the other end, a frosted glass door allows in a good deal of natural light.