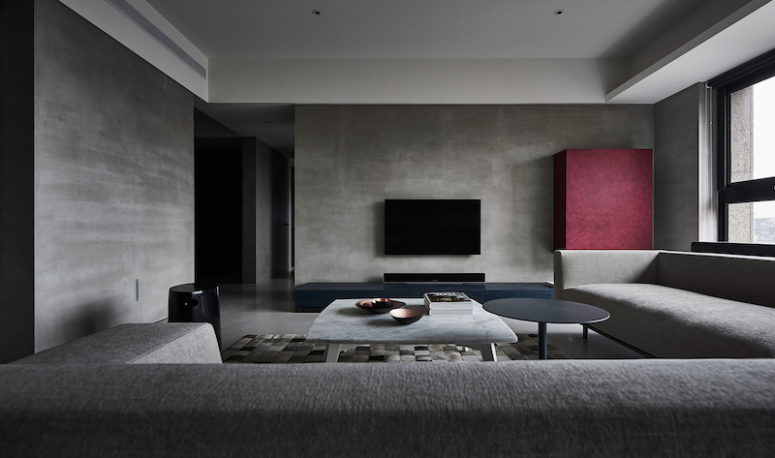 This home in Taiwan is the very definition of what a simple, pure and zen home should look like. It's a space designed by Wei Yi International Design Associates. It's a very pure and simple home, very low-profile but at the same time very stylish as well.
The trick here was to find the ideal balance between cool and warm colors, raw and polished finishes and all the different textures used throughout. Gray is the main color chosen for all the spaces. It creates a neutral backdrop which highlights all the accent colors and the finishes that stand out by contrast. The surfaces are imperfect and irregular and that's what makes this such an authentic and exquisite decor.
A choice was made between three accent colors, and the winner was blue because blue is more relaxing and goes well with gray. It became the color used on the accent wall in the dining area as well as on this corridor. As you can see, the walls have a distinctive finish with an artisanal character, a detail that supports the design direction chosen for this project. red was used to accentuate the living room and make it less cold.
Exposed concrete walls, polished concrete floors, gray furniture, gray-black veneer and low-brightness colors are just some of the characteristics that work together to turn this space into a quiet, relaxing and serene sanctuary.