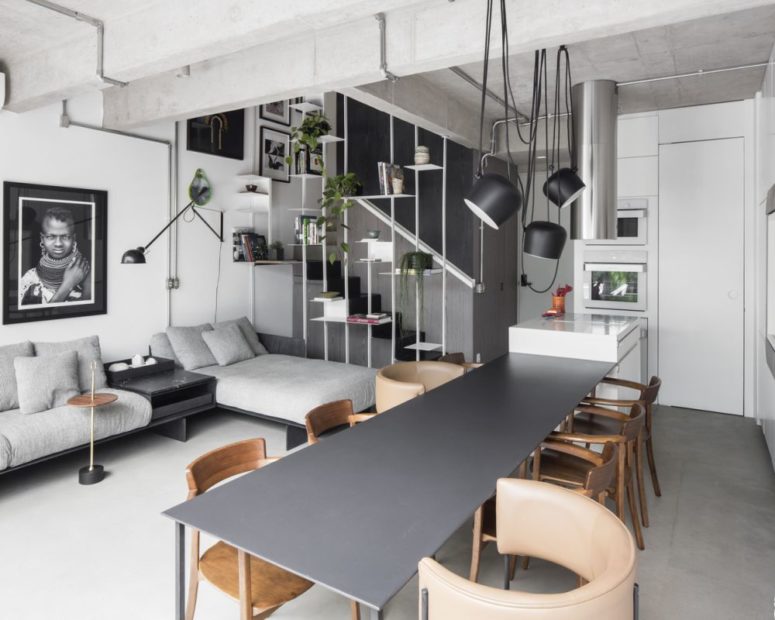 This contemporary 100 square meter apartment was created by studio flipê arquitetura in Sao Paulo, Brazil. The dwelling features a dynamic vibe and a chromatic color palette that makes it bold, modern and fresh-looking.
The apartment features two main areas: the ground floor is dedicated to all the social activities and is composed of an open layout with a kitchen, a dining room and a living area combo. The upstairs area is where the private rooms are situated. Multifunctional spaces and furniture pieces are one of the defining characteristics of this apartment.
The color palette is chromatic, as it was stated before, with certain wooden accents and of course the grey of all the exposed concrete surfaces, and that gives lots of character to the home. The white kitchen appliances blend in with all the modern cabinets, creating a sense continuity. At the same time, the kitchen island is seamlessly integrated with the dining table. What's really beautiful though is the green wall which is the focal point of the balcony and by extension of the entire social area. There's a ground floor balcony that is very similar to a small courtyard and has a gorgeous green wall, which enlivens the whole space.