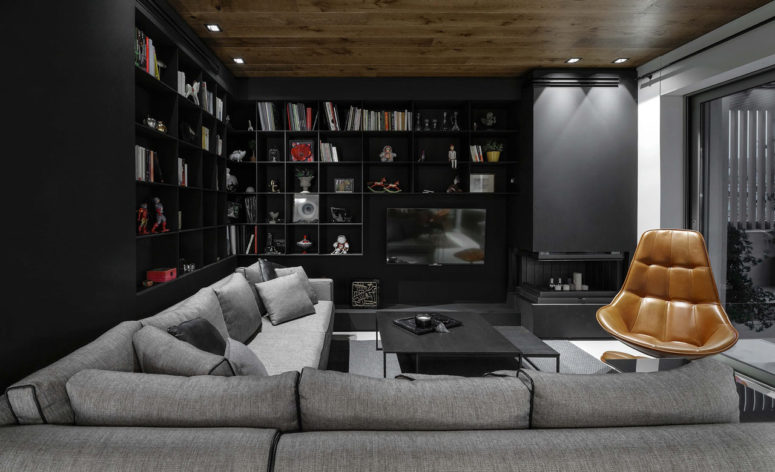 The Raw Apartment in Thessaloniki, Greece, hasn't been touched since the 1970s. Makridis Associates were hired to transform the dwelling, give it better flow, flexible spaces, a high-end look, and a focus on the city views.
The current interior features contemporary style and a black and grey color palette spruced up with amber leather touches – chic furniture. The new layout placed the rooms around the building's communication core in the center with the circulation around it. The core volume was outfitted with walnut offering up a warm texture alongside the minimalist grey and black scheme.
The living room and dining flow into the black kitchen and to keep it filled with daylight, floor-to-ceiling black framed doors were installed instead of solid walls. Walnut covers the ceiling to create a uniform space, as do the concrete floors. The master bedroom includes a bathroom with a dressing area connecting the two spaces. The oversized bookshelves in a corner of the living room house the owners' books and collectibles. The master bathroom features a dark stained floating double vanity and a comfy bath and shower space. The second bathroom shows off geometric tiles on the floor and a wall plus a vintage car toy attached right to the wall as decor. Get more of the pics of this amazing home below!