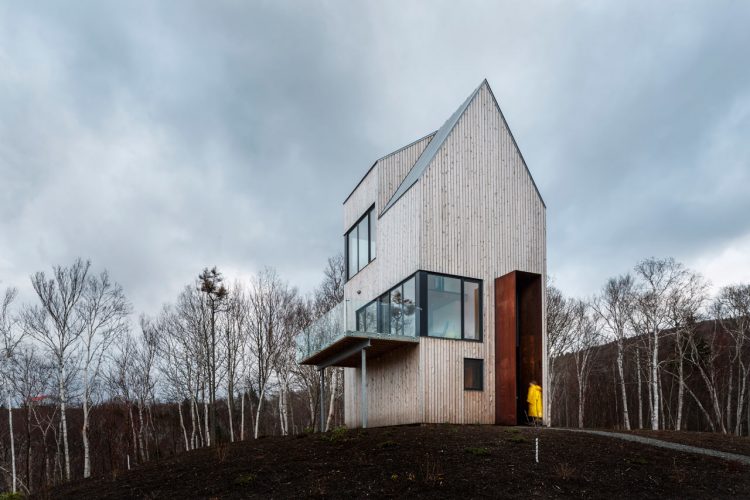 A wooden cabin is a popular type of home today, built of wood and decorated in a simple way it's a perfect holiday home or just a home for a hiking and outdoor lover person. Building one is rather budget-friendly, so many people choose this type of homes today, especially for the woods and mountains.
Cabins are usually small, simple and all-natural, not very high or big but today's one has a character. Omar Gandhi Architect Inc., who worked in collaboration with Design Base 8, designed Rabbit Snare Gorge, a cabin in Nova Scotia, Canada. The owner is an avid outdoorsman who wanted to respect the land, so the structure was built higher helping to minimize the footprint of the house. The elevated nature of the design also allows for better views, and it looks very eye-catching ruling the land.
To combat the heavy rainstorms, winter Nor'easters, and strong winds, the structural system was built to withstand major lateral and uplift loads. Layered sheathing also helps with the high winds.
The open interior keeps the narrow footprint from feeling too small. A double-height ceiling in the kitchen and living room form the second floor, which leads to the living room loft above, while the ground floor houses the bedrooms and the entry. I totally love the extensive glazing, which is perhaps not that energy-efficient but connects outside and inside so well.
The interior is kept simple with light woods and white surfaces, which are typical for any wooden cabin, letting the natural landscape outside the large windows be the focal point. There's just one accent – a bold green sofa, which reminds of grass in the spring, and the sofa is facing the windows to let the owners enjoy the views. The lamps are simple industrial one, hanging on long black cords from the above, and that also makes the space inside look very high and not small. Light-colored wood and white visually expand the narrow space.
There's a large balcony with glass rails, which gives great views and is amazing for having outdoor meals when the weather allows.
The cabin tower is a totally unique construction that is seen from far away and it's really a fantastic self-expression of the owner who loves nature.