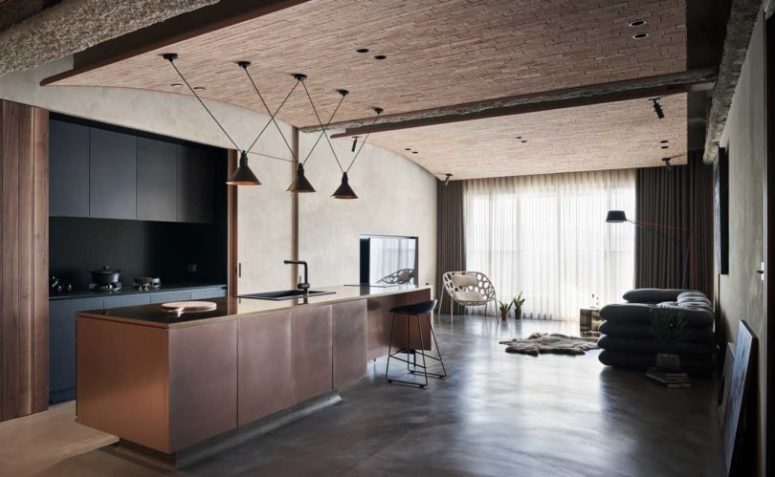 A young couple with a child commissioned Taiwanese design firm KC design studio to renovate a 125-square-meters residence they wanted to call home after living in another country for many years. The resulting space shows off a combo of the couple's styles – modern elements for the husband and natural details for the wife – that harmoniously come together to form a warm and elegant space.
In order to disguise the steel girders and pipes on the ceiling, the designers deconstructed it to create arched panels leaving room in between for them. The walls are done in natural color with a textured finish, the floors are of polished concrete and the curved ceilings featured brick.
The main space is an open layout with a kitchen, small living space and a dining zone. The kitchen features black cabinets that can be hidden with sliding doors. The kitchen island clad in copper makes a statement. The living zone features a grey sofa composed of cushions and pillows, a TV and some lamps and rugs. The dining space is done with a couple of chairs and a creative dining table with rocks inside the base, so natural and cool!
The master bedroom is done in light shades, with comfy upholstered furniture, a window that takes a whole wall and molding on the walls and ceiling. I also like the little closet done with wood and pipes, it's small yet very comfy in using. Look at other cool spaces of this home below!