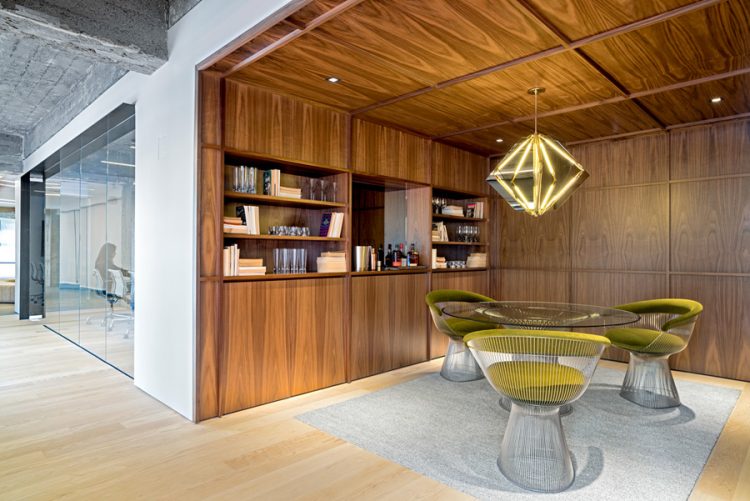 This office apartment hybrid by Studio O+A has a sense of work and live in one large space. The use of walnut creates a warmth that is generally found in the home, and it works great both for living and working areas.
The "walnut room" with the Warren Platner chairs reminds of a home office. The whole space is clad in wooden panels of warm shade, and that gives it some special coziness that inspires, and the statement lamp hanging from the ceiling is right what is necessary to accentuate the table area.
The office zone is highlighted with concrete elements on the ceiling and walls to show up the transition between the working the living zones. There's a smart negotiation space with stunning office furniture and that is very cozy still.
I love the extensive glazings used throughout the house, they bring in much light showing the views and the view from the exterior of the building is beautiful.
There are smaller spaces where on can get some privacy but there is also a nice movement from space to space. The furniture also lends its self to a living environment rather than your typical office – just look at these two chairs made using old clothes and belts! Looks unique and fun.
The kitchen clad with walnut has rather an office look with all those coffee machines and sleek surfaces but looks warm and cozy due to the wood décor. The living room zone is very modern and chic: there's a round two-piece sofa with a coffee table in the center and an awesome chandelier that highlights the décor.
Every area is somehow accentuated in the décor to achieve those stylish transitions between spaces for working and for living, this is a nice example of a hybrid where you can have some privacy when needed and still enjoy working in a proper ambience.