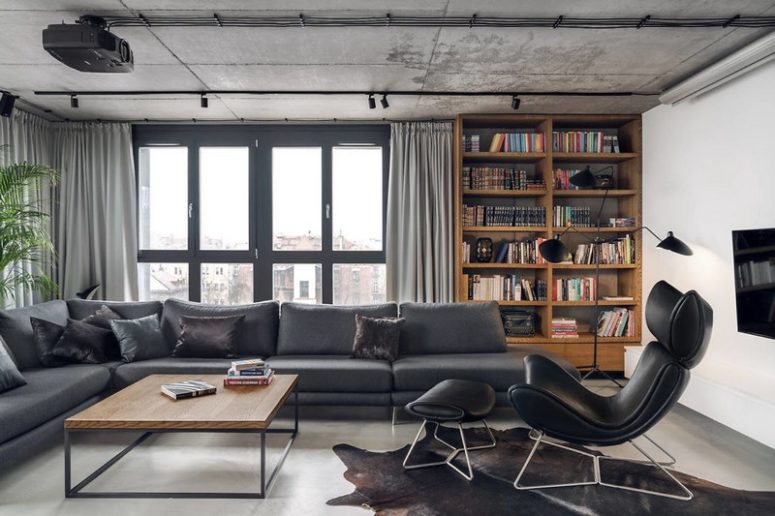 This bold contemporary penthouse is called Penthouse PK43 and was designed by the creative team at Blackhouse. The contemporary space features some industrial touches and doesn't lack warmth or comfort.
The designers warmed up the raw spaces with oiled wood and natural materials such as leather and felt. Surfaces of concrete oppose the smooth white plaster walls, creating an eye-catching visual contrast. Industrial references are visible yet minimized by the variety of textures.
As you step inside this penthouse, you see an impressive open plan living room and kitchen. While combined, the spaces remain visually divided. Floor to ceiling windows allow natural light to enter the apartment and highlight its design contrasts.
The kitchen is done with white subway tiles, black metal furniture with stone countertops including a kitchen island. To refresh the space, the designers suspended a framed cube over the island and placed some potted greenery there. The master bedroom is a true oasis, with wood covering the walls, floor and ceiling. Long curtains fall over the black-framed windows, creating both a feeling of privacy and a visual connection with the living areas. The bathroom was done in white and with some light wood touches. The fixtures are laconic and white, the storage spaces are closed. Take a look at the pics of this gorgeous home below!