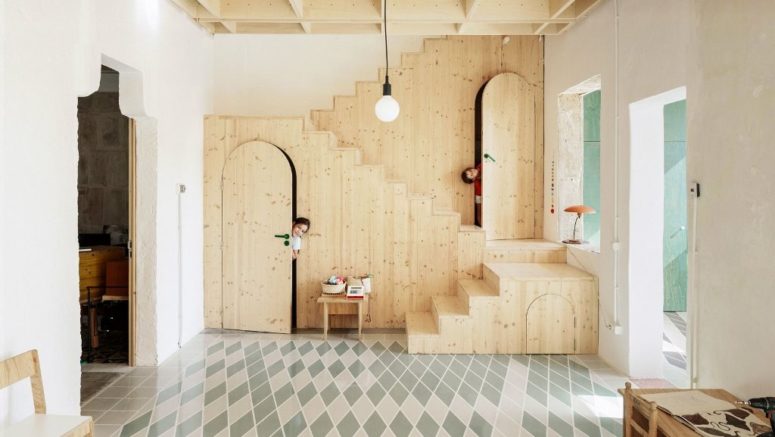 Located in a quiet neighborhood in Palma de Mallorca, Spain, this modest terrace house was built by Spanish architectural studio Feina. Contrary to its name, Plywood House with its construction echoes the island's rich tradition of handicrafts, whereby stonemasons, carpenters and ceramists have been doing wonders with humble materials in Majorca for centuries. The design of the house seamlessly combines modern aesthetic with a handcrafted sensibility and DIY playfulness.
The creative use of plywood was sparked by a demanding brief that required the construction of an additional floor on top of the original one-storey terrace house. The raw aesthetic of the plywood structure, which is picked up by other plywood elements in the house like for example a playfully designed staircase, furniture pieces, and door and window frames, permeates the entire project. Locally sourced building materials such as wood, stone, and terracotta have for the most part been maintained in their natural finish, while their various degrees of industrialization reflect the contribution of several local artisans. The prevailing palette of earthy hues is punctuated by splashes of vibrant blue, mint, and red hues which have been applied to internal doors, window frames and shutters, and a slender pergola in the back yard.
Majorca is renowned for its local tile manufacturers so it's no surprise that Plywood House features a variety of handmade tiles, from plain terracotta square tiles in the courtyard, to arabesque motifs found inside the house. Echoing the geometrical patterns of the plywood structure, the floors are playfully covered in diagonal cement tiles.