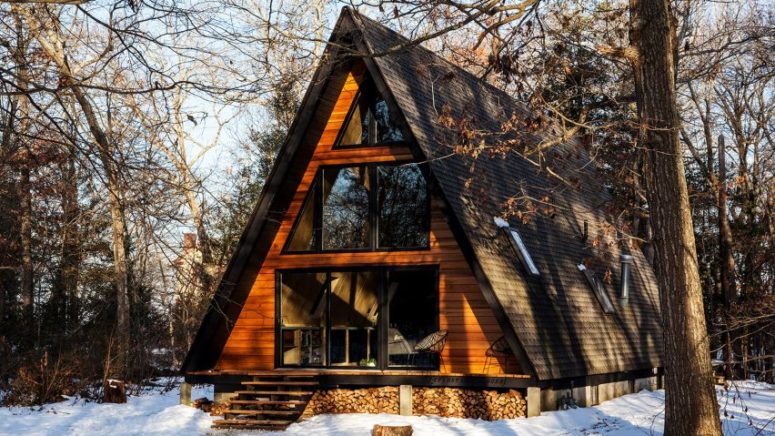 The 1960s A-frame residence was overhauled by the Ludeman's to serve as a private lodge and a cozy winter or summer retreat.
The cabin is situated on 2.5 acres of land and constructed from California Redwood. The decor is modern and Scandinavian, and it's fully insulated with all mechanicals updated. The interiors are done with sturdy materials like plywood and concrete, which give a character to the spaces. The original wooden beams were painted matte black to contrast with honey-toned plywood, and pine plywood boards hide the new insulation that was installed.
On the ground floor, a kitchen features a live edge wooden dining table that doubles as an island, and much cabinetry with concrete countertops that were poured in-place by the designers. A living room with a caramel leather L-shaped sofa anchors the atrium space. Completing the ground floor is a bedroom and bathroom, while another sleeping and wash area with a private terrace is found on the upper level. The bedrooms have a simple design, which is focused at plywood, wood and the views to create a peaceful feeling.
In the basement, four single beds are built bunk-style into the walls, and closed off from one another with curtains – this is a great idea of a guest bedroom if you have many! Also on the property are two fire pits, a rear deck, a wood-fired hot tub, and a waterfront area along the river. This is a gorgeous summer/winter retreat to have a rest in.