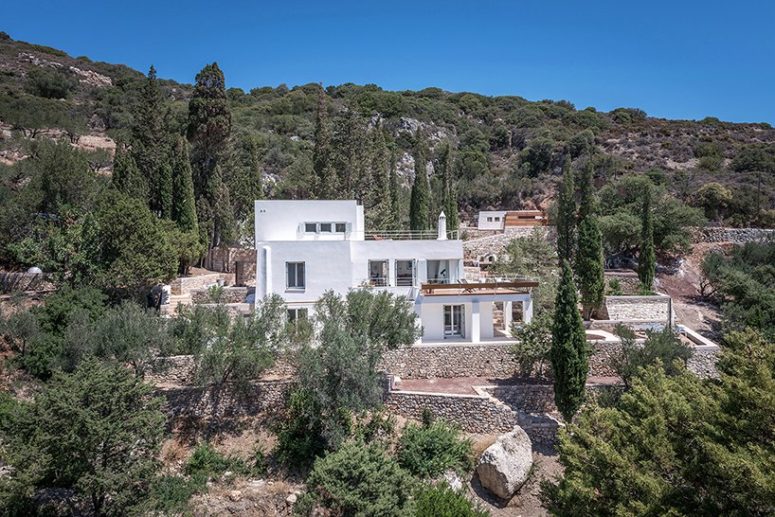 This residence designed by Greek studio R.C. Tech is located in the southern part of Kythera, Greece, opposite to the Venetian castle and next to a creek with dense Mediterranean vegetation. Scattered olive trees and tall, old cypresses encircle the white volumes of the house, and the panoramic view is impressive and spans between the imposing castle and the sea.
Previously at the site, there was a structure built in the 80s on two levels but it concealed the dominant views from the interior. R.C. Tech's architectural fit-out aimed at restoring the house's connection to the vistas and the exterior landscaped areas. The building was structurally reinforced and a separate level for the master bedroom was added. The outdoor areas were also redeveloped unifying the internal and external functions of the house. A small water feature added for the kids cools the surrounding terrace during the hot summer nights.
The interiors were kept very simple and contemporary, the color scheme is very neutral, it was done not to distract attention from the views. The main space is an open layout uniting a kitchen, a dining space and a living room. The space is extensively glazed to catch the views, and a large fireplace makes it cozier. The dining space is illuminated with long ceiling lamps, the kitchen shows off white cabinets and a large kitchen island. Here there's an entrance to one of the terraces. The master bedroom is on top, and there's a large terrace to enjoy the views. The terrace provides amazing views of the surroundings and is a very peaceful space. Get more of this amazing home below!