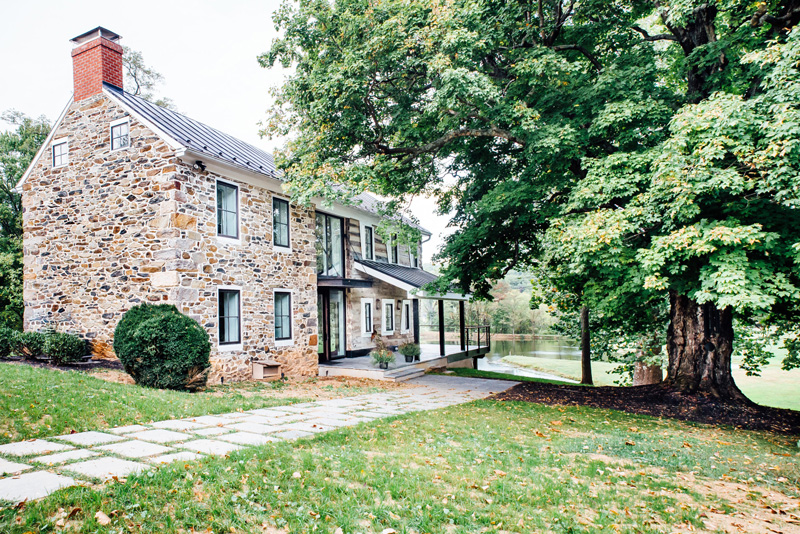 This gorgeous stone clad home is primitive modern, rustic industrial, whatever you want to call it this is an absolutely gorgeous house by Cortney Bishop inside and out. It is next to a little lake, has a pool, silo, ancient barn, there live the owners with their golden retriever and alpacas!
Rough wooden beam walls are mixed with rough stone walls throughout the house to achieve that chic and cozy rustic look. The entryway boasts of a primitive folk rug and a traditional bench with hat and clothes hooks above it; there's a black metal staircase that hints that you'll see more industrial touches in this home.
The living room with double height ceilings and double height windows is full of light; a stone clad fireplace gives rustic chic to the space, and dark checked curtains not only provide privacy when needed but also make it cozier.
The kitchen is an industrial space decorated with reclaimed lacquered wood furniture and blackened steel. It's designed with maximum functionality in mind, so every piece works perfectly here.
The master bedroom has a big rustic cozy bed, which is accentuated with a rustic wood and chain chandelier. The master bathroom is clad with the same reclaimed wood as everywhere, and those rough walls really create an ambience.
The second bedroom is decorated with colorful rustic textiles and animal-inspired artworks, so cozy and full of light.
Outside there's a large pool, an old barn, which is still in use, and a silo. Such a unique and functional mix of buildings!