Smart storage system is raising trend in modern furniture design. I must admit that the trend is a good one. There are so many apartments nowadays which have small rooms and kitchens. Looks like Manuel Saez also think so. He recently done a really nice job with daybed chair although two of his previous works seems even more useful.
First one is Slim Desk designed for convenient storage and technology management. . A built-in power supply, a USB dock, and data ports?including speaker and microphone?are conveniently positioned within the user?s reach. A pair of sliding panels keep technology access out of sight and out of the way, and also provide storage space below the work surface. Laptop computers can be stowed in this area as well.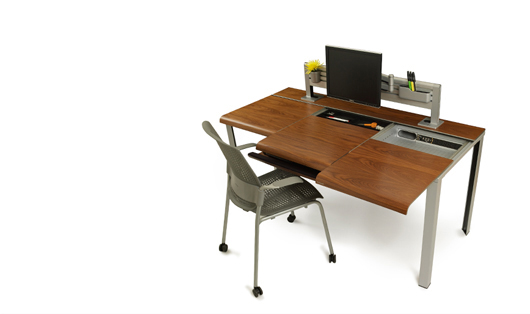 As we can see, the monitor on the picture above is held by something. It's another Manuel's work called Access Rail. It is a flexible ergonomic mounting solution for desktop accessories and tools. A series of rails, posts and specialized components can be infinitely configured to fit any number of desks or workstations. Compatible with most furniture systems the Access Rail provides a convenient mounting solution to which desktop tools can be attached at ideal ergonomic positions while keeping valuable desktop space clear for other tasks and materials. Its double-sided design also lends itself to use in bench-style workspaces.