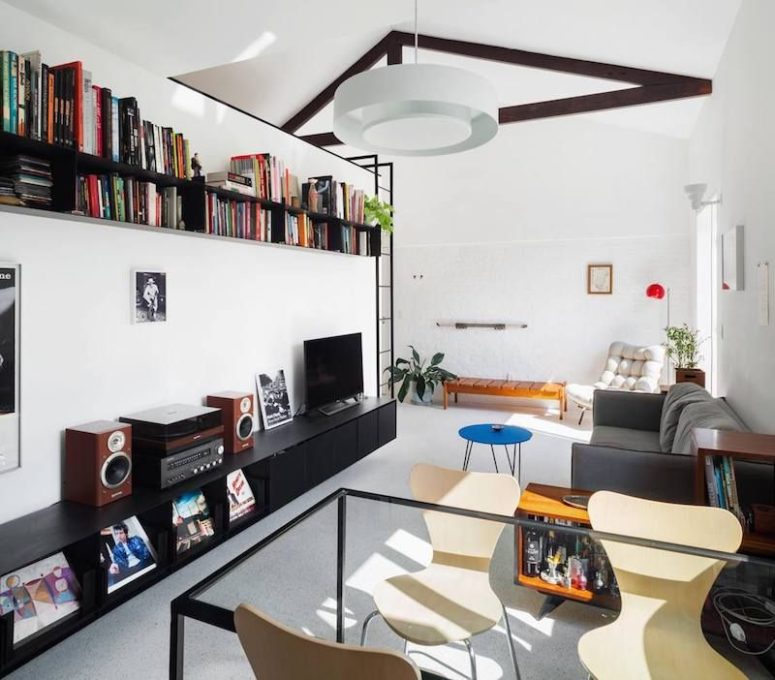 Smart planning, functional furniture and creative solutions are right what you need while designing and decorating a small home. This apartment in Sao Paulo is just 50 square meters but it is super functional and contains everything necessary, it has lively decor and nice planning. Let's have a look at it!
Studio Vão completely changed and renovated this apartment giving it a fresh contemporary look and making its interiors open and practical. The owners wanted to move bedroom to the side facing the garden but the designers found a better solution: they extended an existing wall to shelter the bedroom entirely. The new layout and proportions allow much natural light inside and interiors are better balanced.
The new living room, dining area and kitchen are included into a united open layout. There's some additional space at the top, just under the ceiling, it can be accessed via a metallic ladder, and the owners can relax there or just use it for storage. There's much more storage in the apartment than it used to be: a 3.5 meter long module, a cubby built and much more, plus there's a little pantry.
The decor is contemporary and lively: there are sleek furniture pieces, comfy storage and a couple of contrasting touches. The space is kept mostly neutral and interest is added with the help of wooden beams, potted plants, a glass table and some metal items here and there.