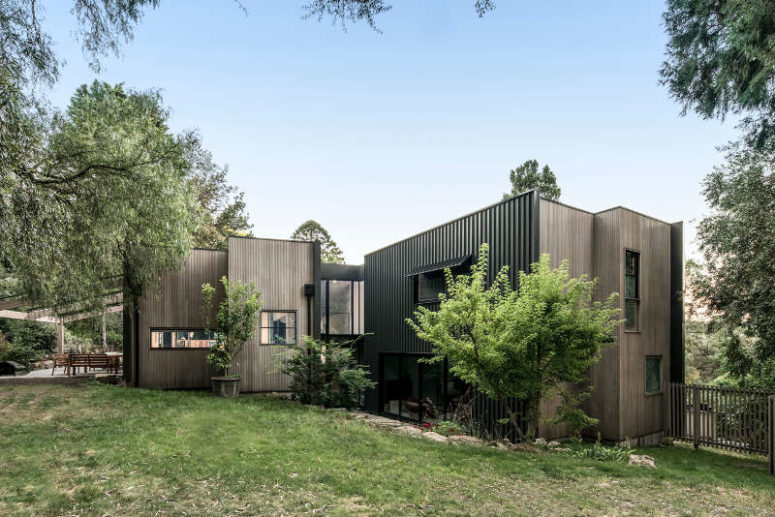 Nestling into the slope this split level house by Melbourne-based Technē Architecture + Interior Design sees light filled public spaces rotating off a central dark spine. Family living is bespoke, understated and stylish all the while not distracting from the beautiful bushland surrounds.
The kitchen, dining room and living room seem to be united into one space but they are located on different levels and separated this way – what a creative idea to unite the spaces though visually separate them! The dining area features a wooden table, white chairs and a vintage-inspired black hearth. The living room shows off a rounded sofa, a storage unit, a velvet chair and a glazed framed wall that provides gorgeous views. The kitchen is done with sleek light-colored wooden cabinets and some black touches for an accent, it's very stylish and welcoming.
The home office is done with a continuous windowsill desk, some storage cabinets, a blue chair and a cool soft blue sofa. The master bedroom is very peaceful, with a grey upholstered bed, blush nightstands and matching bedding in grey and navy. On the wall you can see a concrete circle as a part of decor, looks very modern.
The master bathroom is a large space, made in grey and warm-colored wood, there's a long vanity, two sinks and a large mirror of several parts. You can also see a free-standing bathtub and some circle decorations that can be met throughout the space.