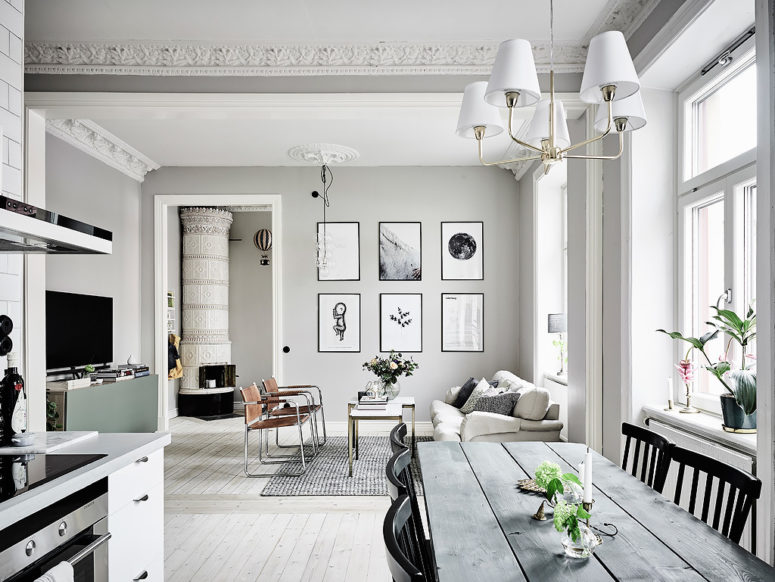 If you are a sucker for Scandinavian style, you are going to love this dwelling that I'm sharing today! This light-filled, open concept Gothenburg apartment is done in classic Swedish style, let's take a closer look at it.
The walls in the whole apartment are covered in off-white, the wooden floors are whitewashed and there's stucco in every room, which gives a character to the spaces. The kitchen, dining space and a living room are united into one open space flooded with light. The living room features a comfy sofa, a couple of tables and leather chairs. A green TV unit adds a colored touch to the whitewashed space, and a rug, a basket and different textiles make the space cozier. Black white artworks and a cool bulb pendant lamp look eye-catchy.
The kitchen is clad with white tiles, there simple white cabinets, open shelving and various wall and pendant lamps over the space. The dining space shows off a rustic wooden plank table and black chairs, this table adds a textural look.
The master bedroom is also light-filled, a refined mirror, paintings add chic to the space. Rich neutral textiles on the bed and curtains make the bedroom soothing and welcoming.
The kids' room is small, there's a wardrobe, ledges used as shelves and a kid's bed. Colorful artworks, a felt garland and a printed rug add character to the room. There's also an antique tile stove in the corner, that is a traditional piece for a Scandinavian apartment.