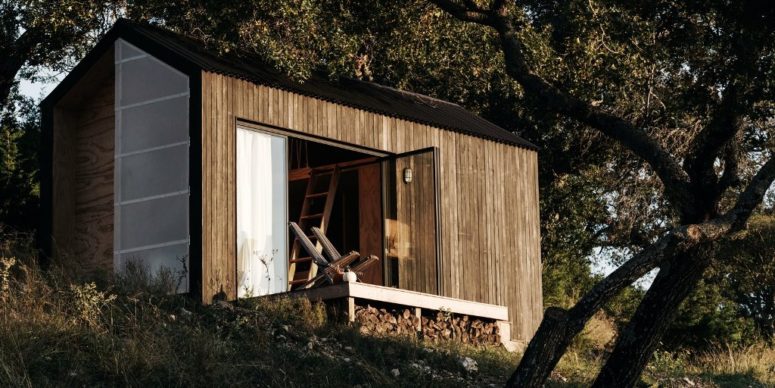 Tiny cabins that allow to relax somewhere in natural surroundings and can be easily constructed or even moved, are extremely popular today. We are sharing one of such tiny homes again and it's a charming little cabin that was built by Ryan McLaughlin.
His goal was to reconnect with nature and to disconnect from daily routines, to try something different for a change. The cabin offers 160 square feet of space in total and is located on a vineyard in Austin, Texas. Unlike the typical tiny houses which are usually just miniature versions of full-size homes, this cabin has its own unique character as well as an outside-the-box design.
Not everything is as traditional and straight-forward as the wooden facade and pitched roof suggest. A fiberglass door conceals a little nook that contains a solar-powered water heater, a propane tank and a wood storage area. Inside, the cabin includes a small kitchen with a sink, a hot plate and a mini fridge, a cozy little sitting area with a convertible sofa and a tiny desk, a bathroom with a frosted glass wall that lets light pass through without compromising privacy and a loft bedroom with a queen-size bed, accessible via a wooden ladder.