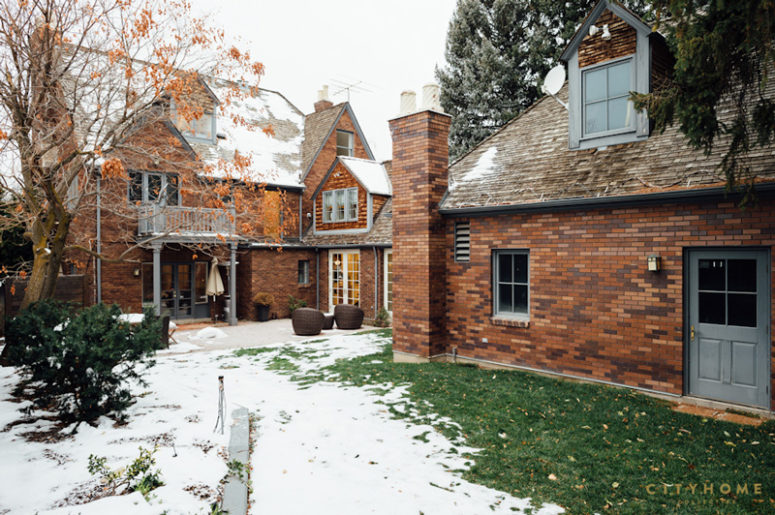 Could you imagine that a gorgeous 5,000+ sq ft, 6 bedroom 6 bathroom Tudor-style brick home could be so unusual and colorful inside? If you can't believe it, let's take a closer look at this unique home.
The living room has cream walls and a fantastic graphic print black and white ceiling, the floor is wooden, rather dark one. The whole room is infused with red, orange, yellow, green and blue: furniture, textiles and accessories just drive you crazy from the first sight. A deer head on the wall here is combined with a giant cherry accessory, so funny and whimsy!
The dining space is done in beige and gold, rather calm colors but the décor is just wow, so exciting! Look at these primitive-style artworks and an amazing glass dining table with large curved horns instead of usual table legs – can this room be more crazy than that?
The kitchen clad with marble looks rather glam and soothing, though metallic gold accessories and touches spruce it up a little bit. Look at the hot pink breakfast nook! Whimsy and colorful textiles did all the work here, that's so bold!
Even the entryway is unique in its own way: there are balloons and a zebra-printed rug on the stairs. The master bedroom is perhaps the most soothing space in this house, it's done in cream and chocolate brown. Some metallic gold details and interesting prints spruce it up a little.
I can speak of this unique house endlessly but better just look at this masterpiece yourself!