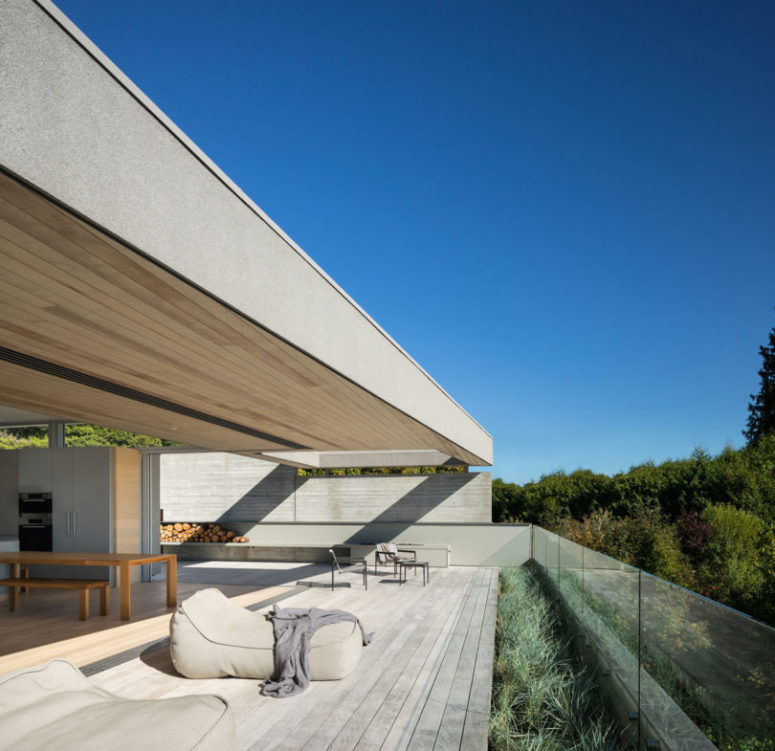 Though this home is located in West Vancouver, Canada, it was designed as a modern beach house to make the owners, who are from Australia, feel at home and at ease.
G'Day House by Mcleod Bovell Modern Houses is a relaxed home that encourages an outdoor lifestyle with equal attention to the indoor and outdoor spaces. A fence offers privacy to the street while a reflecting pond adds a natural element to the open terrace. It also makes the house look as if it's floating above the water. The cascading walkway leads guests straight to the door, inside to the kitchen, and out to the deck to take in the views.
The open floor plan on the top floor expands out to the deck, doubling the size of primary living spaces. The deck is the coolest space that connects the indoor and outdoor spaces perfectly and invites to chill there. Floor-to-ceiling sliding glass doors disappear as does the separation between inside and out. The color palette is very natural and light to make the house merge with outdoors. There are some colorful touches to make the spaces more vivacious. Inside, the furnishings are kept casual, reflecting the type of space the homeowners longed for. Get inspired and steal something for yourself.