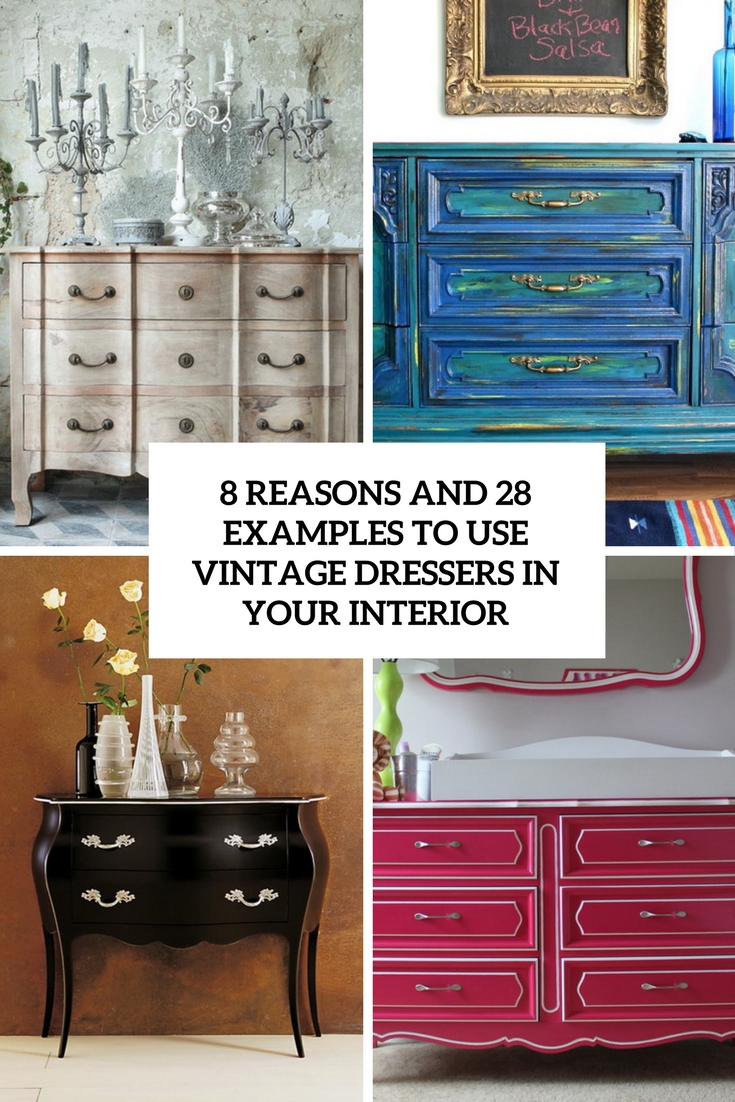 Sometimes just one furniture piece can make a bold statement, catch an eye, create an ambience and so on, and a vintage dresser can be one of such pieces. Dressers or chests of drawers were used not only for storing things at home but also for storing things while travelling. Today a vintage dresser or chest of drawers can easily fit into your classic, vintage or even art deco bedroom or even bathroom, it's not just a decoration from historical films.
You can incorporate a vintage dresser into your home décor easily, and there are some reasons for that.
Beautiful look. Any antique chest of drawers is an example of elegance and grace. Curved legs, flowing forms, luxury materials, brass or silver detailing, beautiful knobs and vintage charm – such a furniture piece will make your space refined!
A vintage dresser for a space is like a little black dress in the fashion world: it's always to the point, it doesn't require additional décor and makes an elegant statement itself. Put some candles, flowers and a mirror on the dresser, and voila – you have an elegant piece!
Timeless look. Vintage dressers have never gone out of style, and they won't go. There are dressers with different looks, colors, textures and of different materials and they will always be fashionable, so don't hesitate to buy one or several for your home, it's a goo investment.
Dressers can accommodate a lot of things, you can find different versions with various drawers of various sizes and shapes to store everything you need from bedding to tools. They will fit different spaces, from bedrooms to entryways, so you definitely need one or more.
Dressers can replace many others things: a bedside table, a diaper changing station, a shelving system, a kitchen island, a bathroom vanity and so on. You can easily repurpose and change themas you want using paints of different colors and stencils, removing drawers and making new ones.
Versatile looks. If you are tired of the usual look of your dresser, you can always hack it a bit sanding, repainting, changing knobs, even shapes, removing and changing drawers and tops. You can give your dresser totally a new look and style.
Comfortable storage. A dresser can accommodate a lot of things inside and you can also use the top for storage and display, so comfy and so space-saving!
Unique décor. Many vintage dressers are handmade, with hand painting, amazing knobs or handles and unique patterns and looks. It will easily become a centerpiece in any space.