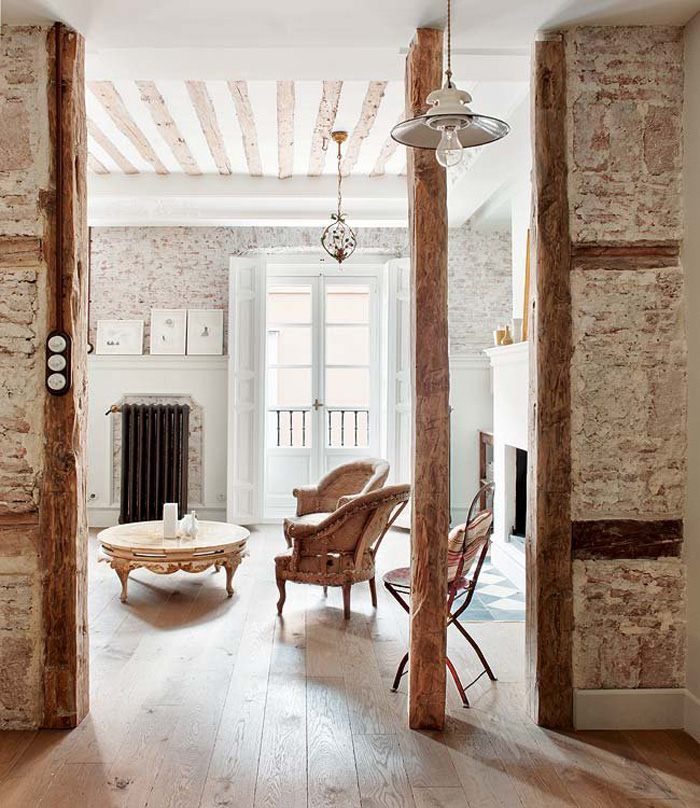 This renovated 19th century apartment in Madrid was designed by La Traviesa de Conde Duque. The apartments is a charming and magical place with gorgeous original features and a wonderful random assortment of antique/vintage pieces, let's take a closer look at it.
The first step while redesigning this flat was the elimination of existing space dividers and the recovery of original structural elements, such as wooden beams and solid brick walls, which were left exposed and non-covered. The vintage charm of the apartment played out in fresh colors.
The living room is full of light and looks very cozy with those original features and beautiful vintage furniture. There's a restored fireplace, now more for a cool look than for warmth, you can enjoy wooden beams on the ceiling and walls, and there's even a glass armoire on one of the walls, looks incredible vintage. Pay attention to the cool upholstered chairs and a sofa and a refined coffee table next to them.
The master bedroom also features a non-working fireplace that adds to the style and look of the room. A large mantel over it serves as a shelf for storing books and displaying a cool artwork. There's a big bed and a large wicker chair that adds coziness and warmth to the room.
Another space I'd like to mention is the bathroom, and this is because of a unique blend of a white stucco ceiling, yellow botanical wallpaper and white subway tiles. There's a vintage free-standing bathtub, an emerald stool and a cork one – such a mix of different styles looks unbelievably good together. Now scroll down to see these and other spaces of this apartment!