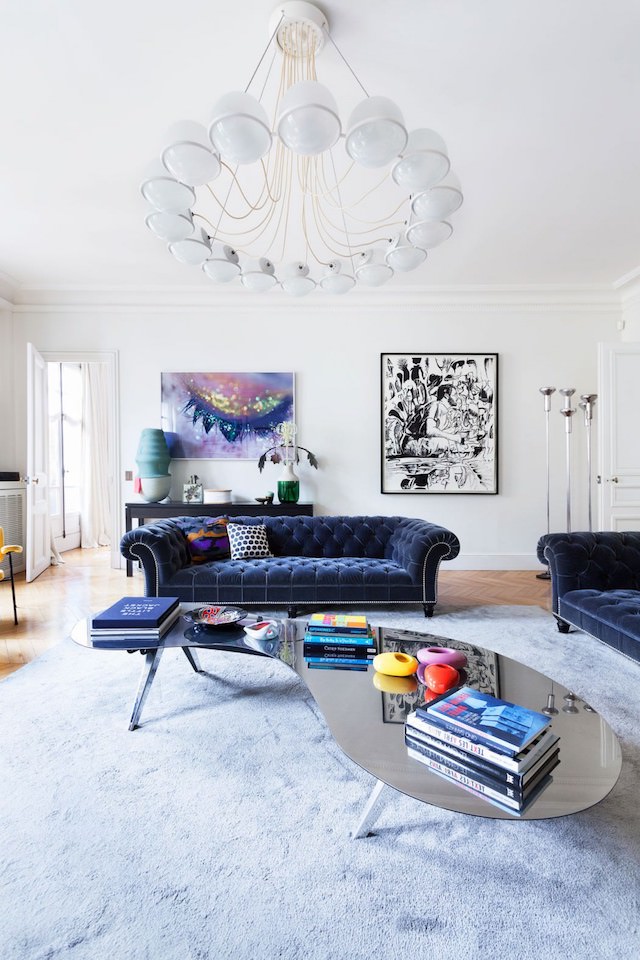 Welcome to the home of Sandra Benhamou, interior designer, in Paris. As you'll see, Sandra has decorated her apartment with iconic designer pieces and carefully collected elements. The result is a chic, eclectic home, full of character and warmth. Let's take a closer look at the spaces.
The living room is a spacious one, with parquet flooring and white walls and ceiling. A gorgeous designer chandelier with glass bubbles highlights the tall ceilings. The furniture is upholstered with navy velvet, and a mirror coffee table with an eye-catchy shape perfectly completes the ensemble. I love the large artworks that help to make the space more exquisite.
The kitchen has a unique eclectic look: modern patterned floor tiles contrast with warm-colored wooden cabinets. The cabinets have black and white countertops, and mid-century modern glass pendant lamps look interesting with them. There are also some frosted glass cabinets for storage and stainless steel appliances. The dining table is a mirrored one, and the light-colored wooden chairs look cool with it.
The master bedroom is a peaceful space decorated in off-whites. There's a cool wooden dress and some red touches, and thick creamy curtains for getting privacy when needed. Soft textures and surfaces is what defines this space.
The bathroom is rather small, so only a shower was fit. It's completely covered with penny tiles in black and white that create a pattern.