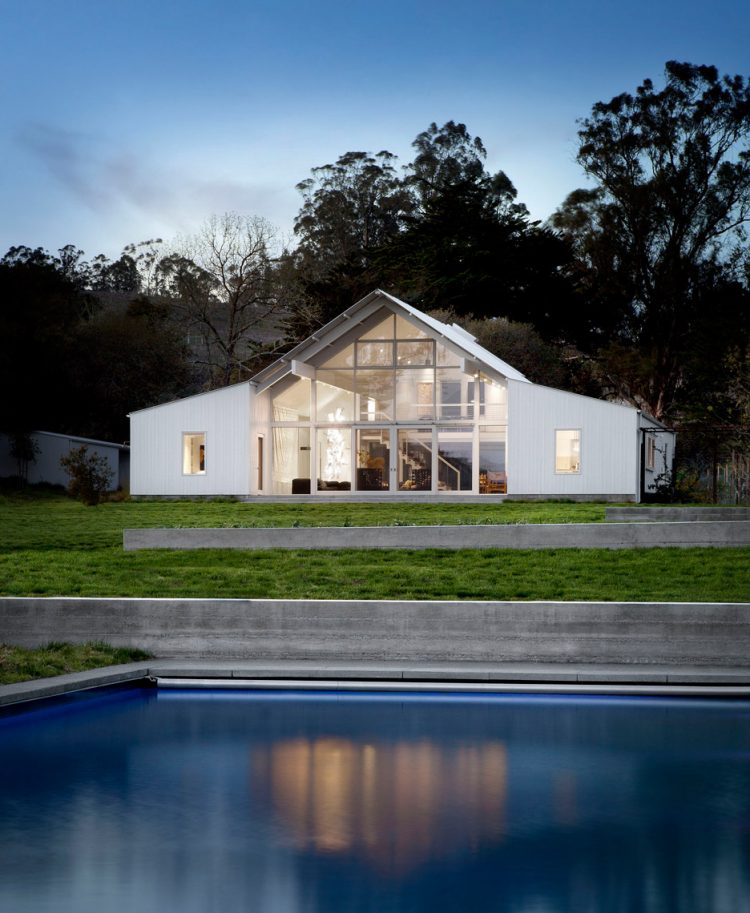 San Francisco studio Turnbull Griffin Haesloop Architects took cues from traditional barns to create this contemporary dwelling in a northern California farming valley.
Called Hupomone Ranch, the residence is located in Petaluma, a small, historic city with a culture of farming and ranching. The name references the biblical term "hupomone", which is typically translated to mean "patient and steadfast". When the client acquired the property, the ranch had been fallow for over 30 years. The owners wanted to build a barn house that would reflect their commitment to sustainable farming, draw on the natural serenity of the site and build on the sense of place in western Petaluma.
A crumbling old shed was razed to make way for the new home. The dwelling is sited to complement the undulating landscape and to capture views of a coastal mountain range in the distance. The architect clad the structure in re-sawn cedar, which was painted white, and topped the home with a gabled roof. Encompassing 2,500 square feet, the home contains three bedrooms.
The entrance is on the north side and provides views through the house and to a meadow beyond. The communal area, with a living and dining room, is flanked on both sides by "saddlebags" that contain bedrooms and a kitchen. The kitchen features large, slide-away windows that overlook a fruit and vegetable garden. The light-filled central area holds a small sleeping loft, accessed via a simple stair with railings made of thin cable.
The interior design was conceived by California-based Erin Martin Design. The décor reminds of ranches and barns thanks to whitewashed wooden walls in different rooms and cute rustic touches like faux fur for a bedspread or a black metal tank as a cover for the bathtub but there were also lots of modern elements to refresh the décor and hint that it's a 21st century ranch. One of the dominant features is a large canvas mural with an image of Maria Felix, an iconic Mexican film star who rose to fame in the 1940s. Furnishings include a plush grey soft and custom leather ottoman. The owners have built their own exterior tables and benches, and are currently constructing a dining room table.
The house features a number of energy-saving features, including a geothermal system, radiant cooling and photovoltaic panels.
The landscape design, by Lutsko Associates, includes an outdoor dining area and a swimming pool. A rectangular pool house features a flat, angled roof and an outdoor kitchen.