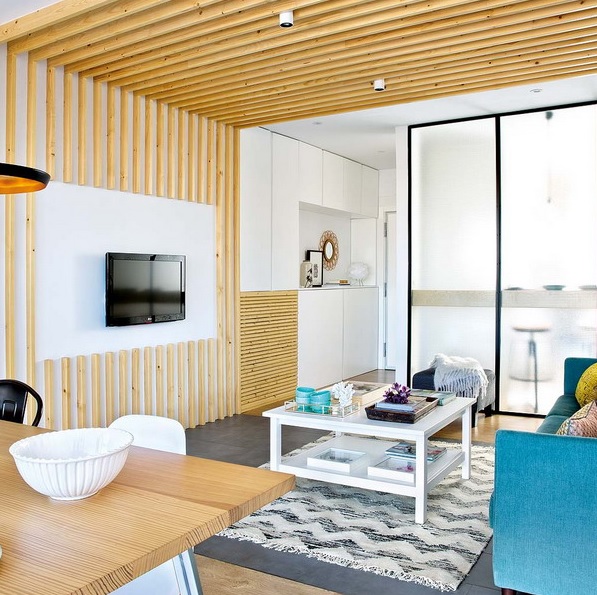 This Spanish apartment isn't small, it's is 70 square meters, and the owners did what they could to unlock its potential. Let's see how they turned this flat into a modern and practical living space.
The living room is fresh, bold and airy: the ceiling and walls are covered with light-colored wooden beams, the rest of the walls are white to make the space lively and cozy at the same time. The turquoise sofa makes a colorful statement, and so does a green wicker chair. There's a dining zone next to the window, and it's defined by a black pendant lamp and mismatching chairs. The storage is organized with the help of built-in wall cabinets, which make the space uncluttered and laconic.
The kitchen is modern and sleek: there are white and light-colored wood cabinets with no handles and a black framed window. A small breakfast nook is organized with the help of a light-colored wooden tabletop with drawers and some pendant lamps.
The bedroom is small yet functional and very cozy. It's flooded with light, and there's a lot of white that reflects it. Colored lamps and textiles make a cool accent and add interest to the space. The bedroom is separated from the closet with foldable frosted glass doors, which save some space and let the light in.
The bathroom features a lot of glass and dark shower tiles. An oversized mirror visually expands the space and white cabinets declutter the space, which is essential for a small bathroom.