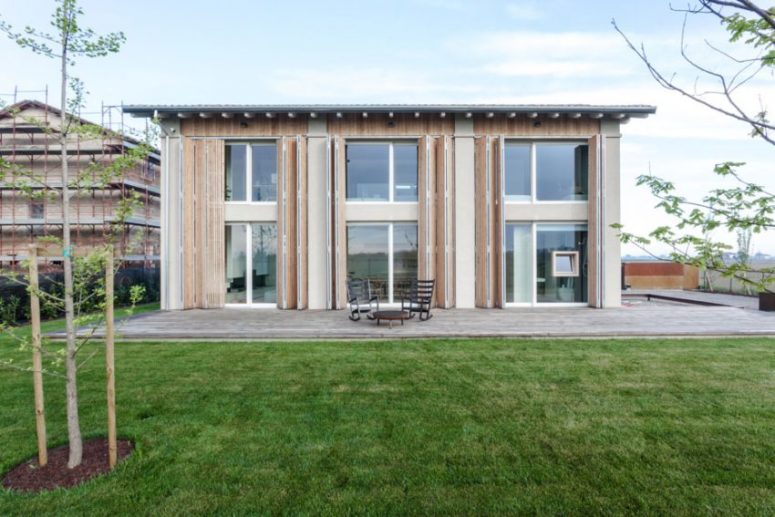 Mantua-based studio ARCHIPLAN completed the renovation of an old barn in Bomporto, Italy. The building had been partially damaged by an earthquake and was in dire need of a contemporary update.  Surrounded by abandoned farm buildings and the cultivated fields of the Modena plain, the residence is an oasis of tranquility.
The front of the house is characterized by a harsh nature, grumpy and unhelpful, which is opposed to a domestic and faithful interior space and a large façade that opens to the endless countryside. The wooden deck and perfectly manicured lawn extend living spaces, providing opportunities for spending time outdoors.
Minimalism was key to designing a clutter-free and highly functional home. As you step inside, you will be greeted by spacious and airy interiors, thanks to the open plan layout and walls painted in white. The only thing that remained from the existing building is a barn-styled roof with wooden beams, which was also painted white to match the minimalist interiors.
A black bookshelf divides the dining table and the lounge area with TV. This is a perfect spot for late evening family gatherings, and cozy tales around the fireplace. The bedrooms are located upstairs, with floor-to-ceiling windows allowing unobstructed views of the surroundings. Used in abundance, the wood accents create a welcoming feel throughout. I love the idea of placing a free-standing bathtub next to the window to enjoy the views and doing the same with a home office nook.