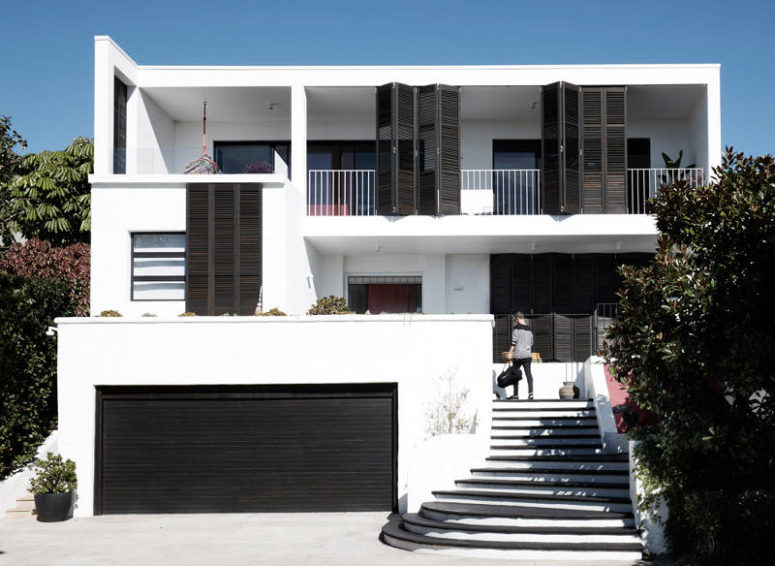 A single piece of art from the homeowner's collection provided the inspiration for this stylish Sydney renovation and extension by Amber Road Design. A parents' retreat, facade and landscaping were created always with consideration of the interaction of internal and external spaces. Blurring boundaries between the inside and out was essential. By creating a louvered facade, it provided the end user a myriad of experiences throughout a single day.
The home is decorated in modern style, with a beautiful play of textures and bold artworks. Both inside and outside you'll see white walls: outside not to be overheated and inside to get a clean background and make the home look more spacious. Though, inside even simple white walls have a texture that appeals. There are also dark wood covered walls to create a contrast with white surfaces; the floors are also dark.
The space is open-plan, and I totally love the idea of using colorful furniture in such contrasting dark and white backdrop. The living space shows off a comfy upholstered sofa in deep blue color, which reminds of the sea and a couple of coffee tables with colorful legs. The lamps over this area are colorful hand-woven ones, which looks eye-catching in such a minimal backdrop.
The ethnic influence can be also seen in the bedroom zone, which boasts of ethnic bedding and statuettes. The nightstand is realized in a minimalist and functional way: it's a bold niche shelf with a small hanging lamp.
The whole extension is opened to the outdoors: these are a large shuttered balcony and terrace with a colorful hanging woven chair that reminds of the lamps inside perfectly. Next to the pool there's another terrace or a pool nook to enjoy spending time outside. The whole house has a Mediterranean look with those white walls, bold artworks and woven pieces.