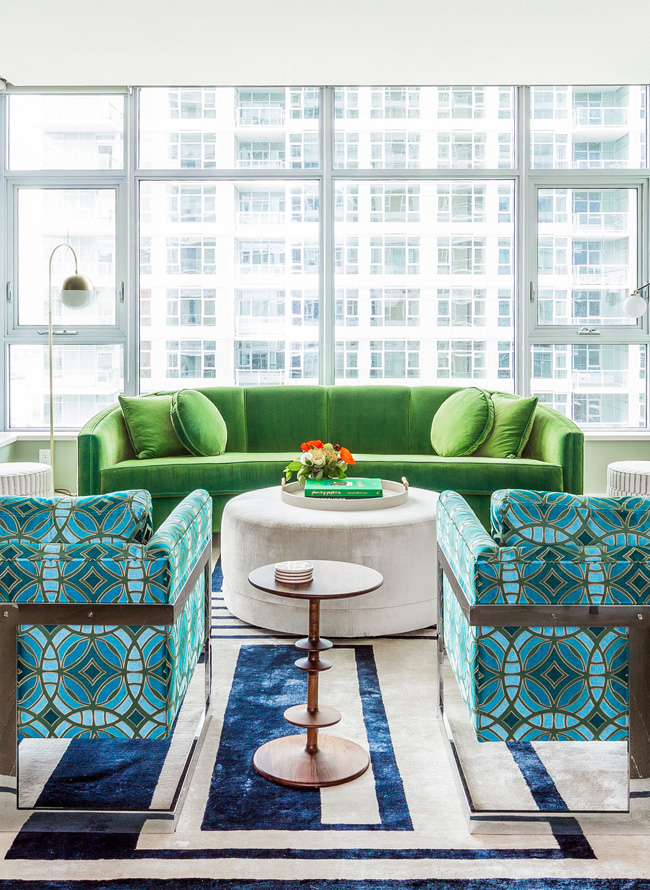 Want some bright colors? No problem, the home we are sharing today is full of bold shades of blue, emerald and yellow, it's sure to inspire you with bright shades.
This Seattle apartment was designed by Brio Interior Design, and it's sparkling with fun bright colors in unique combinations and a midcentury vibe. The clients' requests included green and ivory, local art, a nap-able sofa and there a king size bed in the owner's suite with an upholstered headboard, all of these requirements were fulfilled.
The designers chose to infuse the sterile interior with bold color, lush texture, one of a kind custom furnishings and plenty of velvet, which is super trendy right now. The space features artwork by locals including Deanne Belinoff and Paul Edmondson as well as the fine craftsmanship of local woodworkers and furniture makers who built the custom sofa, wall bed/desk, headboard and living room built in Seattle.
Look at the open layout: the kitchen, dining and living space are united in one bold room with stunning views, and to take advantage of them, one wall was completely glazed. The storage is hidden in sleek white cabinets, there's a large emerald velvet sofa, some bold turquoise and green chairs on mirror legs. The dining zone is done with a glass top table and brown and yellow chairs. The kitchen is decorated with suspended white cabinets and natural wood cabinets on the floor. Get more of chic rooms of this condo below!