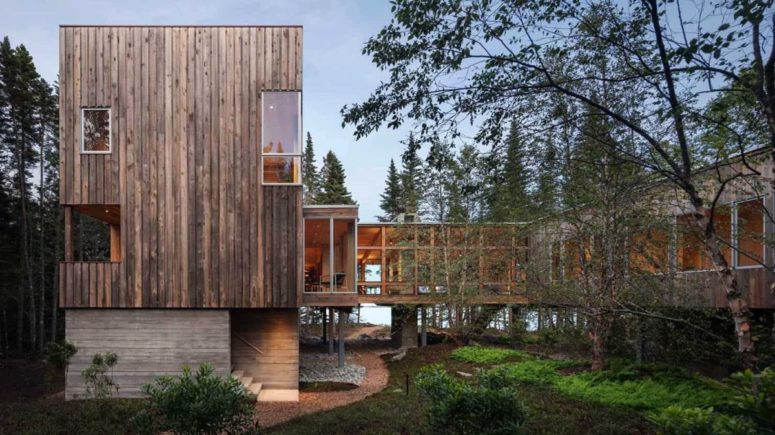 On a small site surrounded by forests in coastal Maine, the team at Whitten Architects built a wonderful cabin retreat that blends together modern design with rustic influences. The cabin is perched on steel columns which elevate it off the ground, one-storey high in the air. This gives it a treehouse-inspired look and helps to preserve the area below, in line with the eco-friendly concept behind this entire project.
The cabin is U-shaped and forms a beautiful courtyard around a series of large trees that were preserving on the site. In that regard, the architects did their best to preserve the natural surroundings as best as possible. The cabin was built using locally-sourced, natural materials and that allows it to more easily blend with the surrounding forest.
The designers came up with a floor plan that takes advantage of the ocean views visible through the gaps between the trees. The expansive windows and opening further help to camouflage the building while at the same time framing the beautiful views and allowing lots of natural light to get inside.  Inside, the cabin has a very relaxed and inviting design. White pine and Douglas fir were used for most of the flooring, wood and ceiling paneling as well as the custom furniture. Elements such as the kitchen island and the double-sided fireplace double as space dividers, creating separations within the large open plan volumes.