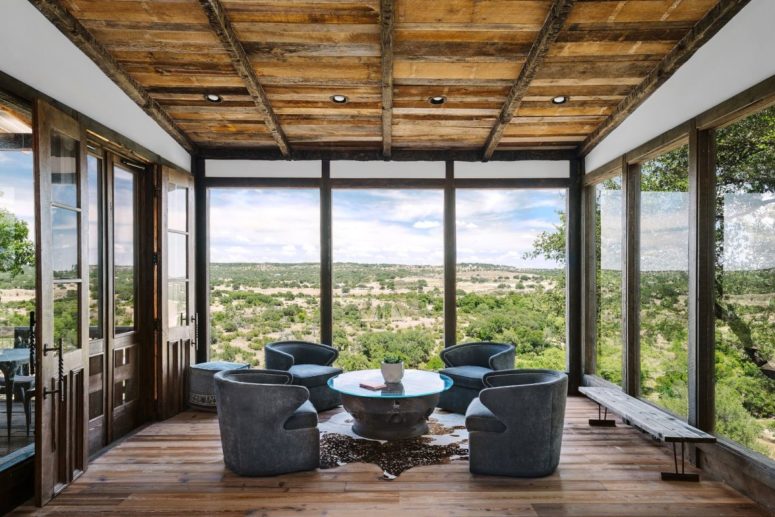 This ranch in Texas was updated to suit the requirements of a contemporary lifestyle by Root Design Company, and the transformation is really spectacular.
The house sits at the top of a bluff and overlooks a forested area, being cantilevered at one end. The updated design of the ranch house features a metal roof and a black exterior which are complemented by light wood elements. A wraparound deck extends the interior spaces outdoors, being shaded by the roof overhangs.
Although the ranch was updated with high-end finishes, some of its decor is still infused with rustic charm. Large glazed surfaces welcome the outdoors in and open the interior spaces to the panoramic views. The palette of materials used throughout the new design includes wood featured on the ceilings, zinc countertops, raw steel doors and shelves, all of these used in combination with clean plaster finishes which create a strong and beautiful contrast.
There's a pavilion framed by a beautiful accent wall that looks like a giant firewood storage niche with a fireplace and a TV built into it. This cool design is actually reiterated throughout the ranch's new design is several other forms, serving as a visual link between the original rustic design and the new contemporary look of the property. The poolside deck offers a pretty great view over the surrounding landscape as well.
A new guest retreat was added by refurbishing a 1976 Airstream RV. The interior is a mix of wood paneling and silver surfaces.