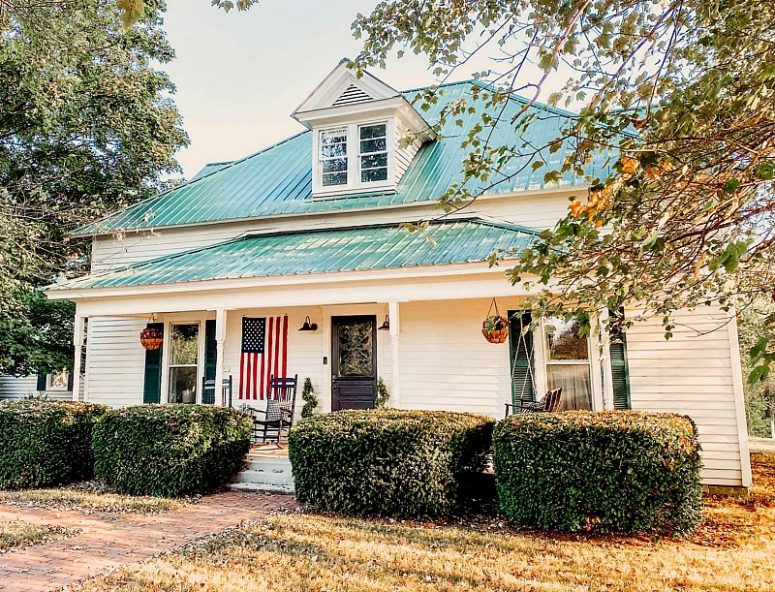 Cedar Winds Farmhouse is an American Foursquare-style home built in 1898 in Columbia, Tennessee. It was constructed by hand by the Cooper family on land once owned by President James K. Polk's grandfather. The trees that were cleared for the home were used to build the farmhouse, which includes handmade tongue and groove bead-board and plank wood floors.
The farmhouse has 4 bedrooms, 2.5 baths, and 2,999 square feet. The owners respect and admire the original details and historic craftsmanship, Cedar Winds Farmhouse is equipped with all the modern luxuries and has been restored with care. The family room is a newer addition to the farmhouse and features tongue and groove bead board on the ceiling to match the original spaces. The wallpapered beadboard was exposed, the kitchen and living space were expanded and water treatment and sprinkler systems were installed. There's a wood stove for chilly nights on the porch. The interiors are done with vintage furniture including some restored pieces and some other shabby chic and vintage elements to create an ambience.
The foundation has been reconstructed, vapor barrier installed, and an entire septic system have been replaced in the last 2 years to ensure the highest quality home where you will be proud to host your friends. There have truly been no maintenance or improvements left undone including plumbing, electrical, and other not so exciting improvements.