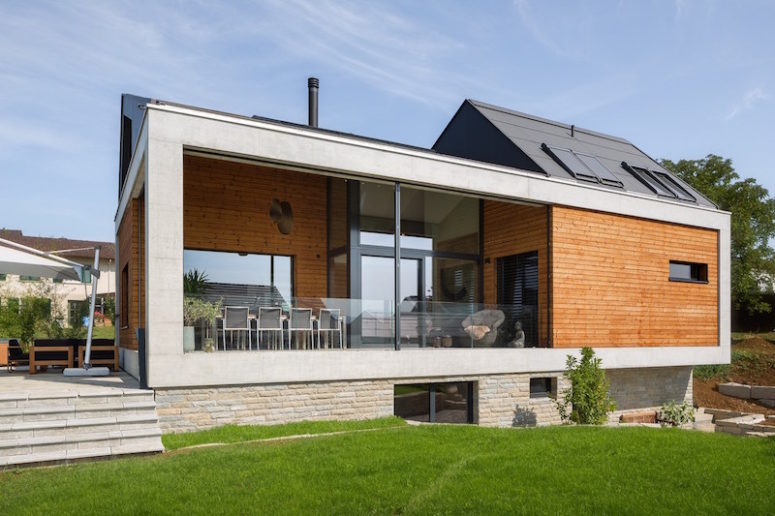 This home was designed by wohgelmuth & pafumi for a family in Switzerland. It's a modern and pretty compact home that only offers 150 square meters of living space. The house is located in Seltisberg and its design and architecture are simple and concentrated around basic shapes and forms.
The modern-traditional combo is noticeable right from the entrance which features a set of minimalist glass doors framed by brick walls and exposed concrete. A wooden bench and a trio of concrete planters complete the bohemian and cozy image of the perfect family home.
The interior is bright and open, with full-height windows that let in lots of natural light and a very beautiful palette of materials and colors. The designers used an array of earthy shades combined with neutrals in order to induce a pleasant and inviting ambiance. The furnishings are meant to be comfortable and functional, with a focus on simplicity.
The most impressive area of this open layout is the dining area which has a simple metal and wood table surrounded by upholstered chairs, each featuring a different and rich color as well as by a matching L-shaped bench.
I love the idea of the staircase design: it's a metal and wood one surrounded by concrete, and this gives this space such a gorgeous modern feel! The materials complement each other with their contrasting textures and colors.
Upstairs there are some private zones, and a noticeable feature here is a bedroom with a free-standing bathtub right in it – such a daring and trendy solution!