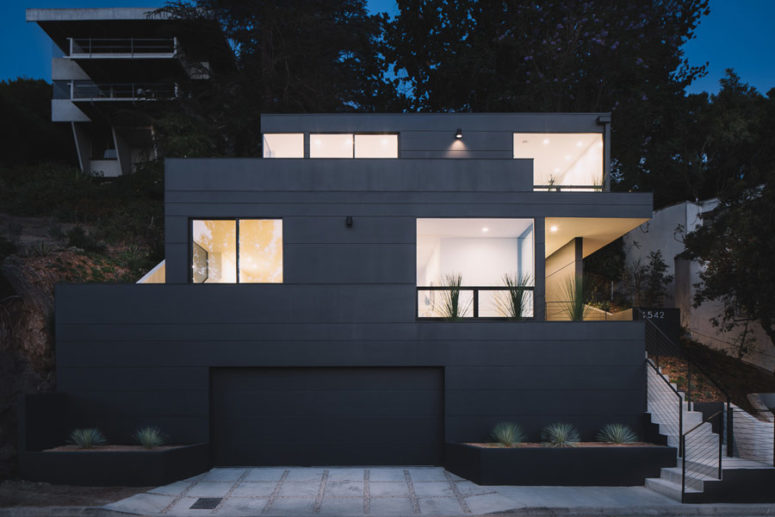 This modern in Silver Lake California by Architect Aaron Neubert is newly built and its strikes with its dark exterior. Let's take a look at the interiors, too.
The color palette in total has a nice Scandinavian feel with the colors of Black, white, and plenty of warmth provided by wood. The kitchen, dining room and living room are united into one open space layout, which is a widely used concept today. The kitchen is located in the corner and dived from the rest of the space with a built-in bookshelf. Black cabinets are calmed down with white countertops and a backsplash and warm wood furniture.
The dining space perfectly matches the space with a black dining table and warm wood chairs, and there's a statement art piece to visually define this zone. The living room is made with a black leather sofa, wicker chairs, and a unique rough wood coffee table. Some of the units here are clearly mid-century modern ones but it adds coziness to the space.
The working area features an unusual wooden desk with some drawers, a geometric artwork and a skin cow inspired rug. The floor lamp is a fresh take on an antique candelabra. The bathroom features a shower, a small laundry space and dark tiles on the floor. The vanity is double, of warm-colored wood and with a white countertop.
The bedroom is very simply decorated and is centered around the views – the glass walls create a strong connection with outdoors. Get inspired and steal some ideas!