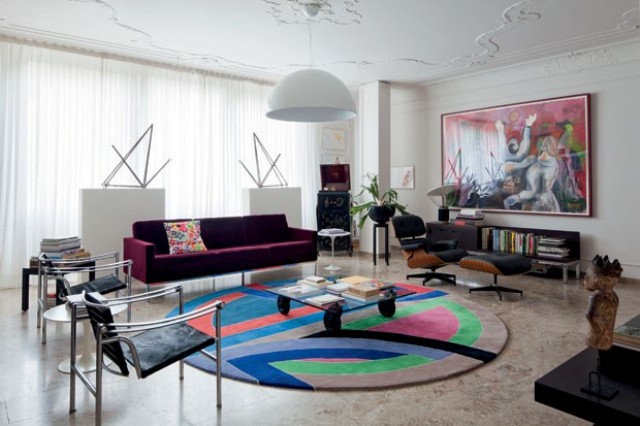 This eclectic apartment belongs to Italian chef Massimo Bottura. He is obviously an art collector and some of the most interesting interiors that I have seen come from art collectors. Each room in this place has its own unique personality. The marble floors in the second picture are mind blowing, art in and of themselves.
The apartment is located in a 1957 building and was completely restored and renovated by designers. The living room is bold and very eye-catching with black furniture and a stunning purple sofa, which is anchored with a bold geo rug and a cool artwork on the wall.
The kitchen is a glam space, this is the most beloved space of the owner of the apartment. Metallic wallpapers, a chic modern chandelier and professional steel modules and a large work bench make it look professional yet rather cozy and family-like.
The master bedroom is bold like all the rest of the spaces here. A dark purple sofa, an oversized artwork piece above the bed, a large yellow art above the sofa, colorful fold rugs really stand out in a calm grey bedroom with a simple black bed.
The dining room is full of light and a clam white dining table and beige chairs are balanced with a super bold work of art.
The owner is a collector not only of art but also of vinyl, so here's a large bookcase used for displaying 10 thousands vinyl in it.