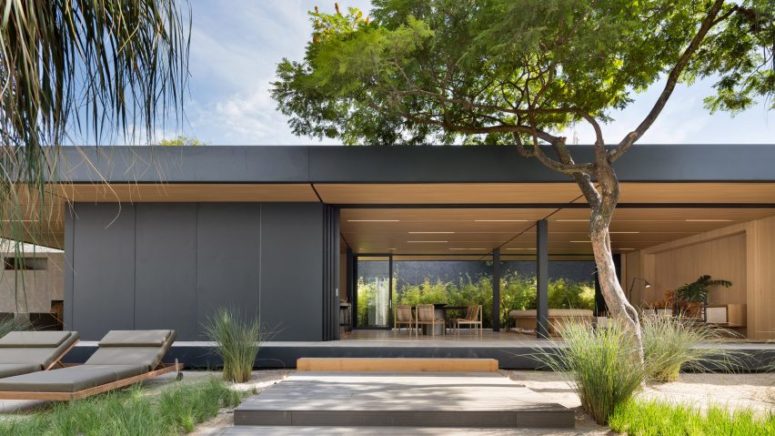 Brazilian firm Studio Arthur Casas has worked with SysHaus to create a highly flexible, prefabricated home. The 200-square-metre dwelling brings a new concept for contemporary living, where efficiency, practicality and sustainability are not only ideal, but also effective practices. It's a single-storey home encompassing one bedroom, two bathrooms, and an open-plan kitchen, dining area and living room.
Retractable glass walls facilitate cross-ventilation and provide a strong connection to the outdoors. Wrapped in recycled aluminium cladding, the dwelling has a steel structural frame that is meant to be highly adaptable. Flanking one side of the home is a deep covered patio with a concrete fireplace.
Providing a high level of flexibility was also a guiding concern for the interior design. In the kitchen, the team installed freestanding racks and cabinets, which can be reconfigured as needed. The owners can also choose from a range of finishes and coatings. In the showhouse version, ceilings and walls are wrapped in medium-density fiberboard, and floors are covered in cement tiles. Most of the decor was designed by Studio Arthur Casas in partnership with manufacturers, from a petal-shaped dining table to a floating credenza in the living room. The team used a neutral color palette throughout the building, lending a sense of calm and elegance.
The "ecosystemic" home has a number of sustainable features, including photovoltaic panels, a rainwater capture and reuse system, and a biodigester that converts organic waste into gas for use in the kitchen and fireplace. The SysHaus is also intended to be equipped with smart-home technologies, such as locks controlled by a mobile phone.