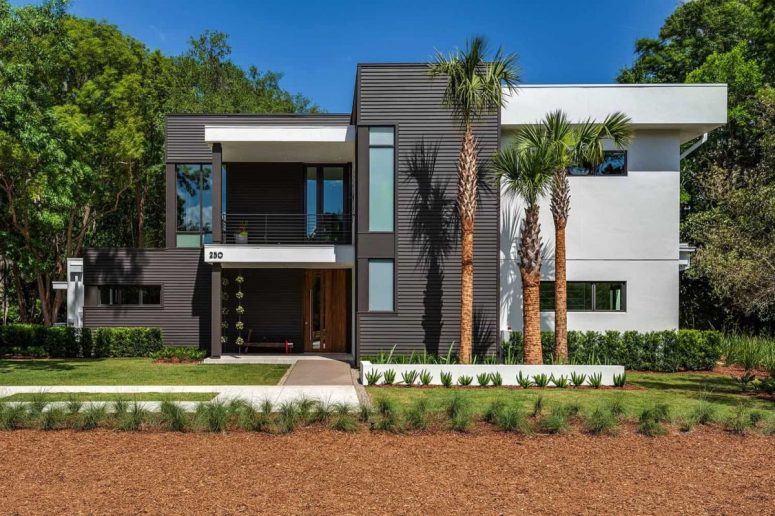 Nestled into a wooded setting, this ultra-modern home is not a stereotypical Florida getaway. Instead, the 4,800-square-foot house is a private and sophisticated vacation home set in a neighborhood along a canal near Lake Maitland in central Florida.
From the very first glimpse of the house, its sleek modern style is apparent, from the architectural profile down to the style of the house number. The plantings are low maintenance and properly suited to the hot weather setting in a design by Evergreen Consulting.
Designed by Michael Wenrich Architects in collaboration with E2 Custom Homes, the chic residence has an open concept floor plan that uses large windows to capitalize on its green and private surroundings. The seamless transition from one area to another creates a space that is not only open and beautiful but also efficient and very functional. Best of all, a lush and tranquil landscape surrounds the house and makes the view from every room relaxing.
The interiors, designed by Rob Turner, have a neutral palette which lets not only the outdoors be the focus, but also highlights the owner's colorful art collection. Furnishings are clean-lined and modern, vibe relaxed throughout the space. Adjacent to the lanai, the dining room is a light-filled and expansive space. The decor also makes creative use of a mirror arrangement on the wall to reflect the outdoors and create an illusion that there are even more windows.