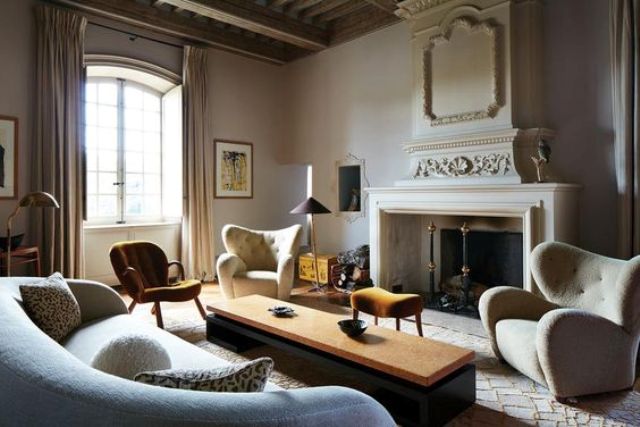 French designer Pierre Yovanovitch and his business and life partner Matthieu Cussac were looking for a modern home in Provence when Pierre came across an ad for a château in the back of a magazine. Fast forward through its purchase and three years of restoration, and the new home of Pierre and Matthieu is now a sophisticated blend of original architecture and modern design.
The owners decided on keeping the most beautiful original features of the chateau and make them play, so you can enjoy the original wooden beams on the ceiling, the amazing vaulted ceilings and stone arched entrances.
A fireplace in the living room was restored and it became the focal point of the space. The living room is decorated in soft neutrals that make the space cozy and refined at the same time. I like the unique shaped furniture – chairs and a sofa, and the wooden beams and stone floor that add to the style.
The master bedroom is also done in very peaceful shades, in off whites. The window sill is used as a separate seating, and the furniture in the room is modern: there's a large bed in a dark rich shade of wood and a dark-colored bedside table.
The dining area with a simple wooden table and chairs and a pendant lamp can be easily opened to outdoors because it's connected using not a usual window but French framed doors. Get more of the beautiful spaces below!