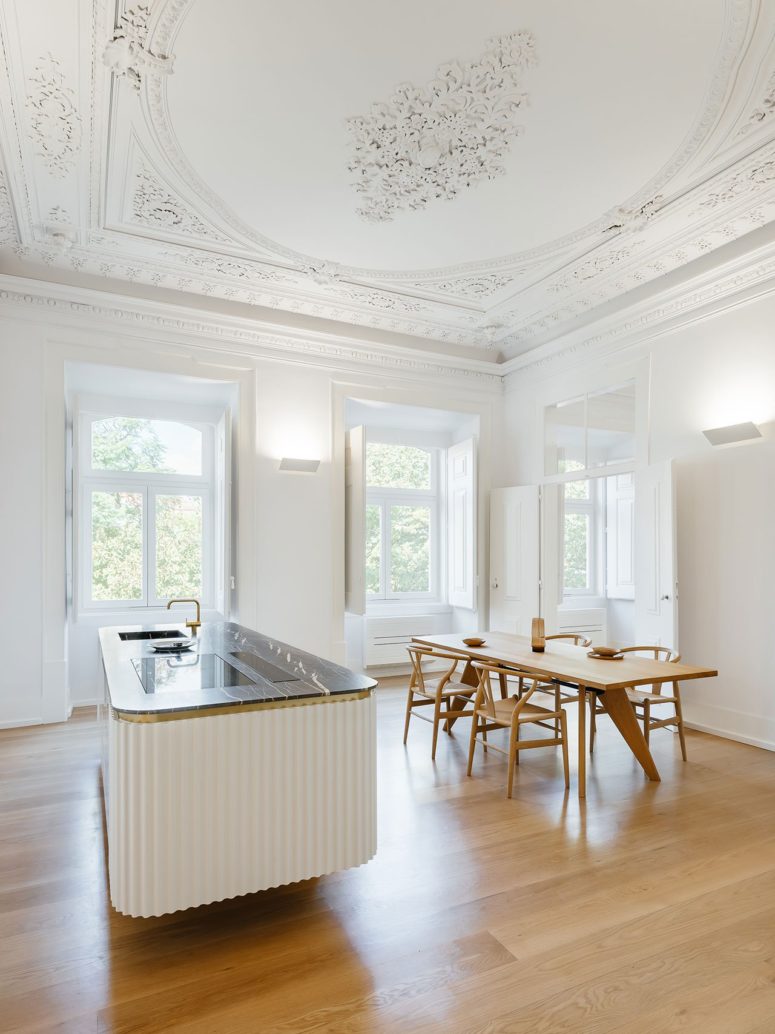 Located in Lisbon's Largo do Carmo, a historical square in Lisbon, this recently renovated apartment occupies the entire floor of an 18th century Pombaline building, and it has been revamped with by Aurora Arquitectos.
The apartment stands out for the ornate cornices, plaster moldings and ceiling roses that have been meticulously restored transforming the ceilings into works of art. By applying a subdued décor of contemporary minimalism, underpinned by an all-white color palette and natural wood finishes, the architects have purposely refrained from outshining the apartment's plaster flourishes, thus highlighting their detailed craftsmanship and sumptuous elegance. From minimalist bronze detailing found throughout in baseboards, built-in furniture moldings and ceiling beams-cum-light fittings, to the gorgeous black marble surfaces in the kitchen that stand out amid the washed out palette, to the undulating cladding of the kitchen island and the vintage ceramic tiles in the powder room, the apartment is teeming with subtle touches of luxuriance and sophistication that initiate a creative dialogue with the building's heritage.
Out of respect for above mentioned heritage, all alterations have been subtly marked: walls that were demolished are traced by slim ceiling beams that incorporate lighting while unused doorways that have been plastered over retain their initial outline. Such gestures add a playful dimension to the otherwise classical aesthetic and minimalist décor while also documenting the architectural interventions so that the apartment can one day return to its original state.