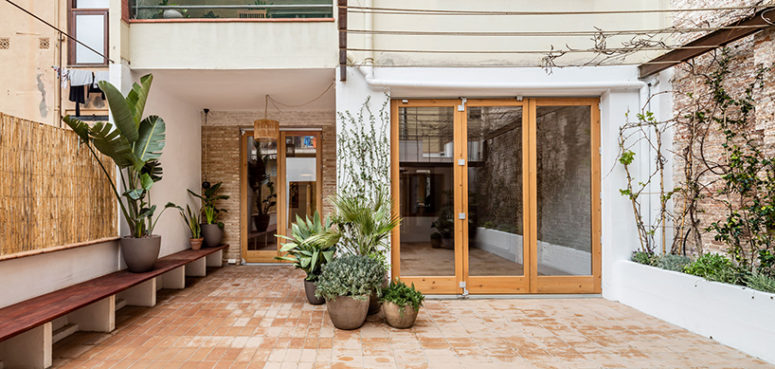 Barcelona-based architect Carles Enrich has completed Gallery House, a residential renovation of an early 20th century apartment. He has reformulated the historical property into a modern dwelling well-adapted to the Mediterranean climate.
The home acts as a gallery that connects the street with the inner courtyards. A former storage room was repurposed into a music studio while the patio becomes a central circulation device in the plan. The building's original envelope was altered through a selective demolition and most of old tiles and bricks were repurposed. The colorful tiles of the pre-existing house were introduced into the circulation areas, kitchen and bathroom to preserve the heritage of the home – such a cool mix of modern and historical.
A main space based on the succession of different rooms is connected by porticos defined by structural interventions in the load walls. The inhabitants can enjoy views of the street and the inner courtyard from different rooms, blurring the boundaries between domestic and exterior spaces.
The architects utilized passive design techniques to ensure temperature control throughout the year, which is essential for hot Barcelona climate. The patios offer great conditions of thermal regulation and natural lighting; the extension of the small courtyard in the center of the house and the sequence of porches offers a cross ventilation that helps to cool the apartment in the hottest months. A rainwater collection system has also been integrated which will be used to irrigate the planter that will grow into a pergola mixing wisteria with vine and jasmine.