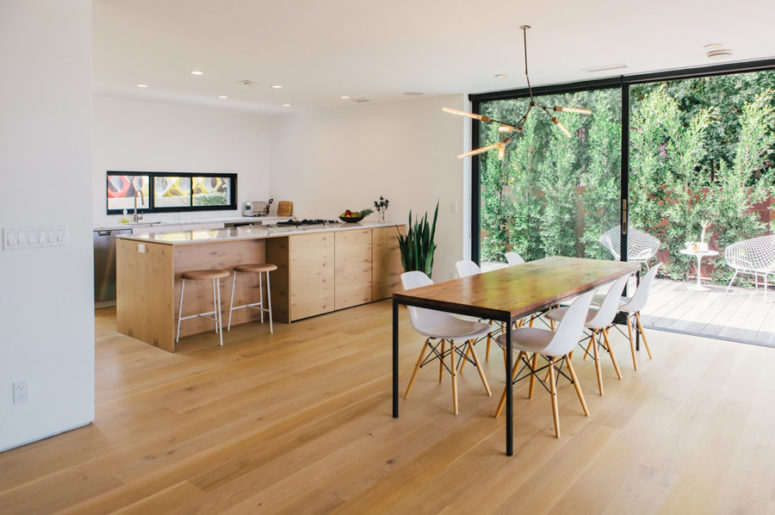 This southern California house is renovated and transformed into a bold modern family dwelling filled with light and air. The renovation is done by the owner and his firm, some items were created especially for this home.
Measuring 2,000 square feet, this austere, minimal home has three bedrooms, three baths, with sunny interiors and indoor-outdoor access points in nearly every room. Defining character features include a cantilevered roof to create living space out of thin air.
The interiors are open spaces filled with much light and air, there are glazed walls that allow cool views and bring natural light in. The walls are done white, and the floors are clad with light-colored wood to create an inviting ambience. The decor is minimalist: there's no unnecessary furniture, and even the kids' spaces are decluttered: there's only furniture that is in need; the storage is hidden behind white oak paneling. The kitchen is united with the dining space and seamlessly flow into the living room, which is flowing itself into a home office. The kids' room features hidden storage and mainly white, there are few colorful touches here and there.
Solar control, Solar photovoltaics, Solar hot water, Low-e storefront windows, Insulated building envelope, and EcoBatt insulation are what make this home eco-friendly. There's a large outdoor space, which is a wood clad deck. The deck features some comfy furniture and there are some swings for kids. Take a look at this beautiful home below!