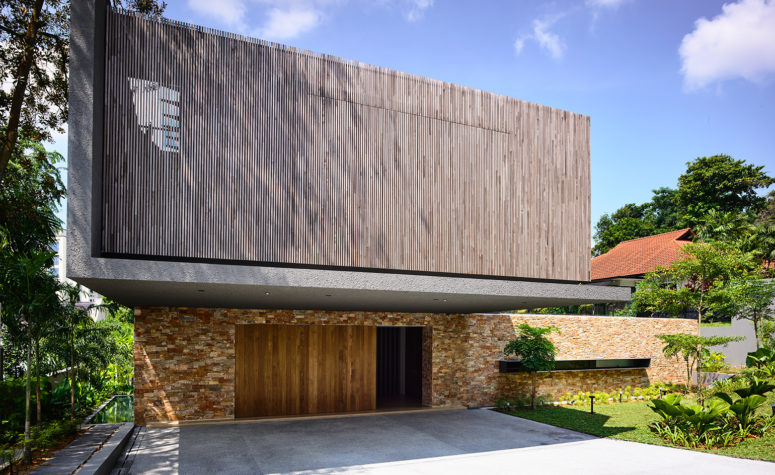 This Singapore house, located in the island's tiny King Albert Park, is a textbook example of what can happen when the natural setting and judicious orientation are factored into the design.
For starters, the six-bedroom house backs onto the overgrowth of the abandoned Malayan Railway track. For architects ONG&ONG, the lush green corridor creates an ideal framing device. They incorporated shakkei, the traditional Japanese design philosophy of borrowed views for the home in order to capture the rustic landscape as much as possible.
In particular, the house is comprised of three neatly stacked volumes of reinforced concrete. The first volume links the driveway with the foyer and a guest-room that opens up into the garden; the second volume contains the living room, kitchen and dining area; while the final volume sits above the public spaces and contains the bedrooms.
All three volumes are carefully orientated away from direct sun, and towards views of the railway corridor, while creating cross-ventilated rooms. The upper floor bedrooms are clad in a shell of retractable zircon timber screens that extend the entire length of the house, while deep overhangs provide passive climate controls, and shelter from the elements.
The use of natural materials is pervasive: the driveway is lined with limestone and textured concrete, the floors with zircon timber, granite in the bathrooms, travertine in the living room, and tobacco-hued cohiba stone in the basement.
The jade-green landscaping reinforces the impression of a tropical bolt hole to create a seamless relation between interior and exterior spaces. The architects inserted a glass panel in the underground multi-media room that peeks into the 25m lap pool above.