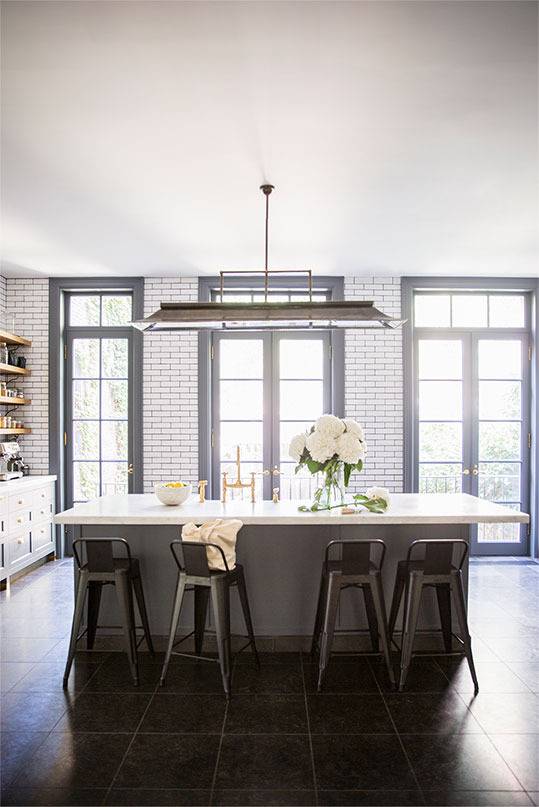 Ali Cayne is a restauranteur who moved to a downtown Manhattan townhouse and took the opportunity to update it to be a warm and inviting family home for her and her five children.
The focal point of this home is the kitchen, of course. The space is decorated in mid-century modern style: there are grey cabinets with gold handles, subway tiles and a gorgeous black and gold retro hood that accentuates the décor. The cooker is also black and gold – yes, masterpieces are created on this piece! The kitchen island doubles as a breakfast space, and it's accentuated with a large pendant lamp.
The owner likes Moroccan décor and patterns very much, so her small walk-in closet can boast of a cool Moroccan rug. The bedroom has a similar rug and a dreamcatcher; I love the chalkboard headboard wall, it creates a bold statement and backdrop for this cool bedroom.
The living room is decorated in traditional style with a bit of vintage. The color scheme is warm: beige, yellow, buttermilk, brown. Chevron clad wooden floors, an antique fireplace, a large framed mirror and a refined crystal chandelier leave an impression of a vintage French salon.
The home office boasts of a glass desk, a large memo board with lots of photos and a console table with potted greenery. It's airy, inspiring and invites to do various things. There are also a lot of shelves and a non-working fireplace that creates an ambience. What a lovely reading nook to curl in!
The bathroom continues the idea of mid-century modern décor with subway tiles and black free-standing bathtub. The cabinet is also mid-century modern, the floors are the same chevron clad wooden ones as in the other rooms.