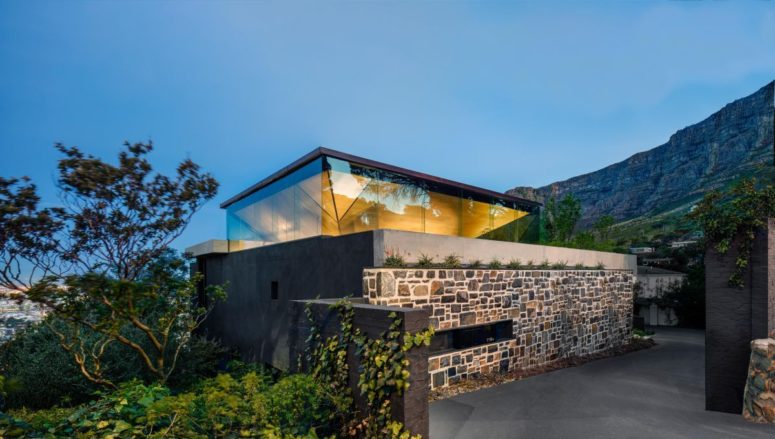 Perched on a hill in one of the most beautiful regions of Cape Town, South Africa, this extraordinary residence is one of the most recent and most amazing projects completed by the architects at SAOTA. It's a family home unlike any other you've seen thanks to the inverted pyramid roof. This design allowed the architects to frame the top floor of the house in glass, creating a clerestory window around the volume.
The building is organized on three floors. The lower level contains a guest room, a cinema room, a gym and the garage. The one in the middle houses the bedrooms and the work spaces while the one at the top holds most of the social areas: an open plan kitchen, a dining space and a lounge area. What very interesting is the fact not the upper floor is one the only one which has a close relationship with the outdoors. Each level is in fact connected to its own set of gardens and courtyard spaces.
In order to allow the focus to remain of the views and the connection between the house and its surroundings, the color palette is kept simple. The palette of materials and finishes used throughout is reduced to only a few natural ones. The living spaces clustered on the top floor enjoy panoramic views of the city and the wonderful landscape surrounding the house.