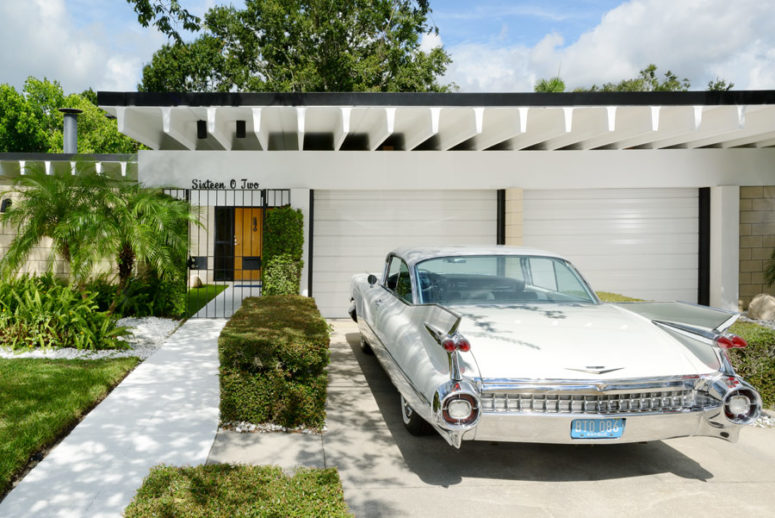 The Ellison Residence by Gene Leedy is a bold mid-century modern house in Florida. This is a fine example of mid-century modern architecture and decor.
The main space is an open layout with a kitchen living room and dining room in one. The kitchen is subtly separated from the rest of the layout with a narrow wall and kitchen cabinets. The open living space is a bright one with colorful mid-century modern furniture: the walls, ceiling and floor are neutral ones, dotted with colorful mid-century modern furniture.
The dining space is done with a small table and chairs and there are several cabinets. One wall of the open layout is fully glazed to fill the spaces with natural light. The kitchen is done with light-colored plywood cabinets.
The master bedroom also features a glazed wall that opens up to a private courtyard with an outdoor living room. The master bathroom is a very creative space with yellow tiles in the shower, light-colored wooden cabinets and a vanity plus pendant lamps.
There's mid-century modern furniture and the room seems to be continues outdoors. The courtyard features an outdoor living room, some benches and landscaping perfectly styled for the house. There's also a pool with loungers to relax after a long day. The courtyard is fully private to keep the privacy of the owners.