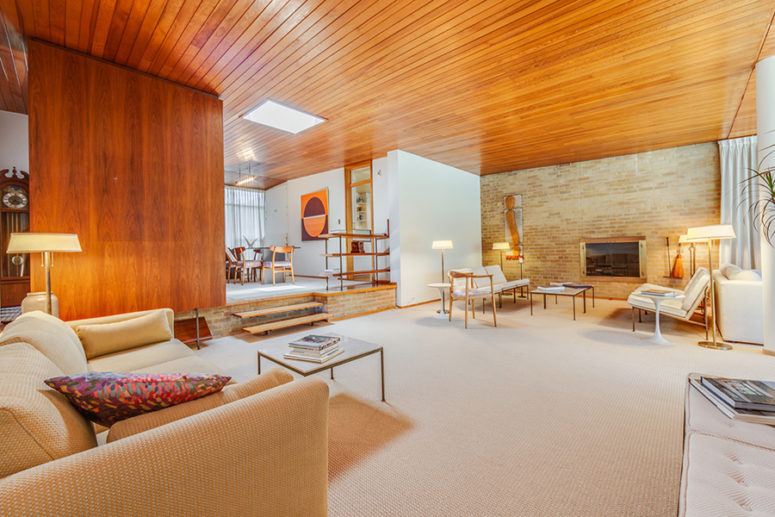 Are you a sucker for mid-century modern style in décor? If yes, then let's enjoy this gorgeous home in Toronto together.
This bungalow is designed in the 1950s style and what excites you at first glance are the ceilings, they are just fantastic! All the ceilings are completely clad with rich honey stained wood that create a mood here.
The oversized living room is spectacular, it features several conversation zones done with creamy and warm-colored furniture, with an exposed brick wall, a built-in fireplace and that gorgeous ceiling. The entrance is separated from the dining space with a half wall, which is a cool divider, yet it lets some light incoming. The dining area shows off a stylish glass dining table and mid-century modern chairs plus a cool view through a fully glazed wall that can be hidden anytime with a curtain if you prefer privacy.
The second living room is centered around another glazed wall to enjoy the views – all the comfy furniture is placed to make maximum of them. The third living room is more private, with elegant mid-century modern furniture and a whole gallery wall done with decorative plates – so unusual!
The master bedroom is done in off-white, with built-in storage space and an oversized window to the other rooms, which may be covered with a curtain for privacy. A large home office nook shows off an oversized desk that takes up a whole wall and features lots of drawers. Want more chic rooms of this home? Take a look at its pics below!