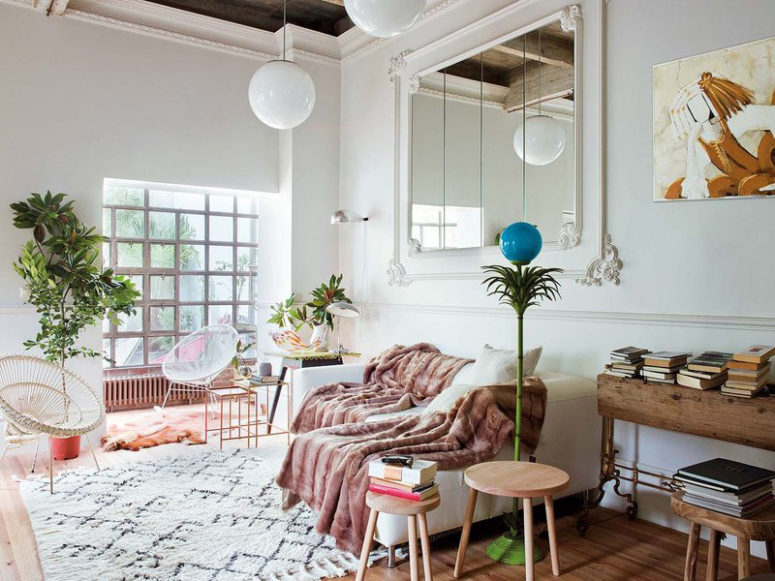 This apartment in a 50's building in Coruña was transformed into a chic, eclectic space with finds from antique shops and flea markets by design firm Ramisa Projects & Fun.
The square of the apartment increased: the original space had a second level hidden behind a false ceiling and it wasn't used but the architects used it. The décor was done with some Parisian vibes, and in mid-century modern style, I love the soft but lively colors. Most of the furniture comes from flea markets and antique dealers.
The living room features wooden floors, white walls and molding, I love the large framed window and an oversized mirror in an antique frame. Mid-century woven chairs look very lightweight, and a white upholstered sofa matches an antique rustic side table. Soft textiles make the room very inviting.
The dining space is united with the living room, and there's an antique light wood dining table and mismatched chairs. A large cupboard with glazing displays all the dishes, and there are also ceramics on display used for décor.
The kitchen is all-white, small and modern, with stainless steel appliances and a mirror wall, which visually expands the space. The stairs look very airy and lightweight thanks to the metal laser cut balustrade painted white.
The bedroom is decorated in vintage style with a rustic feel. Molding, a crystal chandelier and off-whites make it look creamy and delicate, and a couple of wooden stools used as nightstands add a cozy feel.
Interested in other rooms? Look at the pics below!