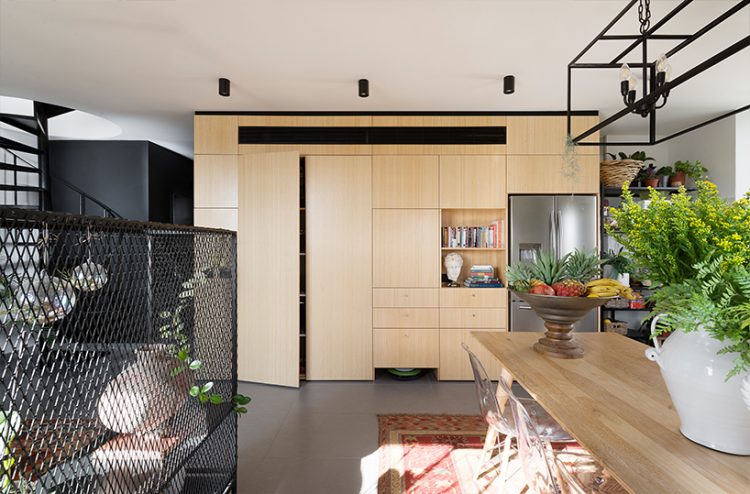 Designed by K.O.T project, the architecture of this apartment in Tel Aviv is home to a renowned fashion designer and his partner, a media figure. The design portrays an intersection between the rich aesthetic of the 50's and 70's with the cleanliness of current design. The owners requested functional and large spaces, as well as ample storage. The planning instigated many conversations regarding lifestyle, practical use, leisure, natural lighting, and work requirements. Before the renovation, the apartment had two bedrooms, a living room, and a separate kitchen; the rooftop floor had a 10 m2 attic. The design concept for downstairs led to the creation of one unrestricted and functional space – by perceiving the structure's enveloping walls as an outer shell for a domestic hub.
Custom-made carpentry and welding units added by K.O.T project structure the inner space, as each function has a unit that contains it. In addition, 40 m2 of lightweight construction (steel frame and aluminum roof) were added to the rooftop floor. The 74 m2 first floor now consists of an open space for the living room, kitchen, dining table (with a closed guest bathroom), as well as the master bedroom unit with a walk-in closet and bathroom. The 64 m2 rooftop floor holds an additional lounge, kitchen and small dining table, as well as a guest bedroom and washroom. A paved balcony of 24 m2 is annexed to the parameter.
During the planning process, an emphasis was placed on natural lighting, the relationship between the outer public spaces and the inner private spaces, as well as interior. Every item in the apartment was carefully selected: leather chairs on an iron frame from the 1970s, glass tables, vintage lamps found in Athens, hand-woven carpets, Missoni textile, Andrew Martin upholstery, an earthenware pot from Tibet, an original oil painting from a private collection and more. the washrooms and bathroom serve as blue and turquoise focal points that break the wood and black theme–exposed to the main space once the door is opened.